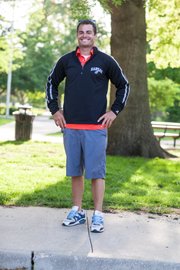 Name: Connor Barnes
Age: 27
Hometown: Smith Center
Relationship status: Single
Time in Lawrence: Three and a half years of undergrad in Lawrence.
Occupation: I just graduated med school and I'm heading to Tampa, Fla., for plastic surgery residency.
Dream job: My goal is to set up a plastic center office and residency in Lawrence Memorial Hospital.
What were you doing when scouted? Enjoying graduation weekend with friends.
Describe your style: My style is incredibly laid-back. Surgeons are pretty spoiled in the fact that we have to wear scrubs all the time! Sometimes, when you have to wear scrubs all the time, your fashion sort of goes down. So, for the time being, I wear whatever is comfortable or feels good.
Fashion trends you love: We're professionals and we need to dress professionally. In fact, there's a company that sends out a box of clothes that help men dress a little better. I want to get into that but I'm short of funds. Once the funds come in, we'll dress better and be into a few trends.
Fashion trends you hate: I don't like what girls are doing with the "ride up your back" shorts. What do they call them? High riders? It's really not working. They say it looks good? I don't know.
Fashion influences: Art! It's the same reason I got into plastic surgery, as well. Art helps you follow your own act and create your niche.
What would you like to see more or less of in Lawrence? Lawrence is where it's at. I'm going to Florida to train, but I still want to come back to Lawrence because there is something here.
Whom do people say you look like? Captain Kirk
Tell us a secret: My nickname used to be Toad.
Copyright 2018 The Lawrence Journal-World. All rights reserved. This material may not be published, broadcast, rewritten or redistributed. We strive to uphold our values for every story published.