Contact KU and higher ed reporter Sara Shepherd
Have a tip or story idea?
---
More stories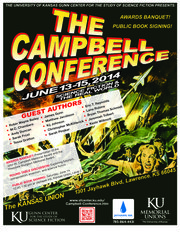 Visiting guests to the 2014 Campbell Conference
Robin Wayne Bailey, author
M.C. Chambers, author
James Gunn, author and founding director of KU's Center for the Study of Science Fiction
Tessa Gratton, author
Elizabeth Anne Hull author, editor, politician and wife of the late Frederik Pohl
Matthew Jacobson, associate professor of film and media studies at KU
Kij Johnson, author and KU assistant professor of English
Christopher McKitterick, author, editor and director of the KU's Center for the Study of Science Fiction
Sarah Pinsker, author
Eric Reynolds, editor and publisher
Lane Robins, author
Bryan Thomas Schmidt, author and editor
Jeremiah Tolbert, web designer, author, photographer
Kevin Willmott, filmmaker and KU associate professor of film and media studies
2014 Campbell Conference events
Friday
2 p.m. - Panel: "Secrets of Successful Speculative Fiction"
6 p.m. - Awards banquet and reception for John Campbell Award and Theodore Sturgeon Award
Saturday
9 a.m. - Round-table discussion "Science Fiction and the Real World"
12:45 p.m. - Autograph session
1:45 - Readings and presentations on Frederik Pohl
7:30 p.m. - Screening of "CSA: Confederate States of America" with discussion by director Kevin Willmott and cinematographer Matthew Jacobson
Sunday
10 a.m. - "Meet the authors" event
1:30 p.m. - "Science fiction Sunday" conversation
Costs and availability vary by events. Contact Lydia Ash, at lash@ku.edu, with questions.
There is a question among science fiction fans and futurism aficionados repeated so often that it has become more than just a refrain or cliche. It embodies a whole genre of thought.
The question: Where is my flying car?
Science fiction writers often try to anticipate what the world will look like decades or centuries out. Sometimes they get eerily close to reality. Sometimes they are way off, as with those who predicted personal air cars by the 21st century.
The intermingling of science fiction and reality will be one of the central topics of this year's Campbell Conference, an annual event 35 years in the running. Hosted by Kansas University, the conference draws science fiction writers and readers for presentations, readings and conversations on the craft.
The relationship between science fact and fiction is more complicated than whether one predicts the other. Those involved with this year's conference anticipate a lively discussion about how science fiction delves into the social effects of technological and other major changes to our world.
James Gunn, founder of the conference and of KU's Gunn Center for the Study of Science Fiction, calls science fiction "the literature of the human species."
"Much of what I've done and what science fiction has done is related to the ways which change and the future can affect us as a species, as well as to how the choices people make today will influence the kind of world that we will have," Gunn said.

Kij Johnson, a KU assistant professor of English, author and one of the hosts of the conference, points to the country's active entrepreneurial sector as a major point of interaction between science fiction and reality.
"We're in a golden age, I'd say, of entrepreneurism," Johnson said. "You can get an idea out in a way you just couldn't in 1950."
And while not all ideas from fiction become products, many — such as handheld computers and video phones — have. "Once it's on paper, it's out there," Johnson said. "It's on the table." But even more importantly, Johnson said science fiction explores big social questions about changes.
Chris McKitterick, a writer and current director of the Center for the Study of Science Fiction, acknowledges that science fiction's predictive power is faulty, as many predictions are. He calls the genre "a view from a height" — a way of examining changes before they happen.
"The most important thing in science fiction is the unintended consequences of discovery and innovation," he said.
This year's conference will also honor the work of Frederik Pohl, a well-known figure in science fiction and a longtime visitor to the conference and the related Intensive Institute on Science Fiction.
Pohl, who died in September 2013, was a writer, editor, literary agent and scholar of science fiction. Pohl was also an avid futurist, and in his work he dug into the reality of science fiction by exploring the social and psychological worlds of his characters.
As a literary agent, he represented Gunn, Isaac Asimov and a host of others. He joked that as an agent in the 1950s he represented 90 percent of the world's science fiction writers at the time and still went broke, Gunn said.
"Our paths seemed to cross regularly throughout our joint careers," Gunn said. "He was associated with almost everything good that happened to me in science fiction."
For more information on the conference, visit its web page at http://www.sfcenter.ku.edu/campbell-conference.htm#schedule.
Copyright 2018 The Lawrence Journal-World. All rights reserved. This material may not be published, broadcast, rewritten or redistributed. We strive to uphold our values for every story published.