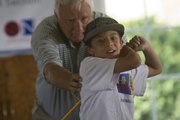 Eudora — Jeff Burey used to sit atop the golf world in his role as a teaching professional and club manager at world-famous places like Pinehurst in North Carolina and Prairie Dunes in Hutchinson. For 27 years in between those stops, he was general manager at Wolf Creek in Olathe.
Now Burey sits atop a tractor, mowing lawns at Eudora's Twin Oaks Golf Complex, which includes a nine-hole, pitch-and-putt course, a driving range and colorful instructional golf tools used to welcome children to the game.
Twin Oaks, where the shadow of self-consciousness that dogs all beginners comes to die, welcomes those who never have gripped a golf club.
Burey revived Twin Oaks in 2011 and has turned it into a center for instruction with no hole longer than 75 yards.
"Here I am at a tin-cup driving range and I've had this fairy-tale career," said Burey, who with wife Cathy tends to snap peas, tomatoes and pumpkins in the garden beside the pro shop. "We're kind of a ma-and-pa operation. But hey, I'm happy as a clam. There isn't a lot of stress here. And this world has a lot of stress, that's for sure. People are people are people. It doesn't matter if you've got a million dollars or are living day-to-day, if you love golf, there's that bond."
If it rains, Burey can pass the time telling stories with the best of them, if, that is, you can get him to stop talking about trying to introduce golf to every young student in the state of Kansas through the Midwest PGA initiative designed to make golf instruction part of physical education classes throughout the state. He doesn't reach for his quiver of stories about big names in golf and other sports unless prompted.
Burey loves golf, all right. He loves basketball, too, and to this day, if he is with Roy Williams and the North Carolina basketball coach introduces him to a friend, he's liable to do so by saying, "Jeff and a teammate of his combined for 64 points when they won the Connecticut state championship."
Burey didn't know that I had lived for 10 years in his hometown, Norwalk, Connecticut, when I asked him how many of those 64 points were scored by Calvin Murphy, the former Niagara University and Houston Rockets great.
"Sixty-two," Burey answered.
Murphy, a senior, was the man and Burey, a junior, was the self-described "12th man" on Norwalk's 12-man team that eclipsed the 100-point mark three times in a four-game stretch during a season in which the Bears lost one game.
"Calvin Murphy could take two balls and dribble them both, run separators and beat everybody on the team dribbling two balls with us just running," Burey said. "He could walk the length of the gym on his hands. He could do a double-flip on a trampoline or a diving board. The coach used to cringe. He was a freak. He was a freak. We would scrimmage seven-on-five, triple-team him all the time, and he still scored any time he wanted."
An accomplished baton twirler, Murphy stood just 5-foot-9, but blended extraordinary quickness, strength and explosiveness to maximize his height better than anyone who ever played the game.
"We'd finish our practices and had to make 20 free throws before we went to the showers. I'm on the line one day and I'm in my zone and I'm up to 14 in a row and I'm a scrub on the team," Burey recalled. "He comes over and says, 'Hey, you look pretty good.' He pushes me off the line. He makes 10 right-handed, makes 10 left-handed, makes 10 right-handed and he goes back to the locker room. Made 30 in a row. Absolutely true story.
"His reflexes were inhuman. (Legendary Boston Celtics coach/general manager) Red Auerbach came to our high school games — I don't know how many, maybe one, maybe two, maybe three — and he said Calvin Murphy was the best high school player he ever saw play," Burey said.
Despite his two-point outburst in the state-title game, Burey had more success at golf, a sport at which got his start as a caddy at Shorehaven Golf Club in Norwalk at the age of 13.
"As soon as I turned 16, I went on the grounds crew because I could play every night. As a caddy, I could only play on Monday," Burey said.
His favorite memory from those days came on the elevated fifth tee box of a 210-yard par three when he was looping for Jim McKay, who would become a Hall of Fame broadcaster at ABC, best noted for his deft handling of the tragedy at the 1972 Munich Olympics.
"He was about a 20 handicap," Burey said, unaware he was talking to a 22-handicap hack. "We were pretty much the only people on the whole golf course. He just stripes it and it goes down, lands short of the green, rolls up and goes in the hole for a hole in one. He says, 'Jeff, don't tell anybody because they'll never believe us.' I couldn't help it and I told all the other caddies. They didn't believe it. They said, 'He's not that good. He couldn't do that. He couldn't reach the green.'"
About 15 years later, Burey was the head pro at Pinehurst and McKay was in town in 1978 to cover the Hall of Fame Classic.
"He says, 'Boy, Jeff, you've grown up. Do you remember our secret?' I said, 'Of course I do. I'll never forget that," Burey said.
He has plenty more stories, about Arnold Palmer, Jack Nicklaus and countless others. "I'm the Ed McMahon to Johnny Carson in all the stories," he said.
He rightly is proud of his nine-hole, pitch-and-putt golf course and driving range and of his passion for growing the game of golf in Kansas.
"The longest hole is 75 yards," Burey said. "It's not Pinehurst. It's not Prairie Dunes, but it's pretty cool. I'm having a lot of fun."
The longer we talked, the more we learned we had a lot in common, including both making a bit of history at Oak Hills Golf Course in Norwalk. Burey received his first job at Weeburn Country Club in Darien, Connecticut, picking golf balls off the range, after receiving a call back from Vinny Grillo Sr. Vinny Grillo Jr. was my neighbor for 10 years when he was head pro at Oak Hills and our children were at each other's houses all the time.
Burey won the first club championship at Oak Hills and I believe I am the only one in the history of the cleverly laid-out public course to get a hole in one and a final score of 111 in the same round there.
If you would rather hear stories about better golfers and in the process learn something about the extremely complex game, head east from Lawrence on K-10 and hang a right on 1900 Road, the ramp before Eudora's two main exits. That last word of the sign that lets you know where you are is "Welcome." More than just the sign makes you feel that way.
Copyright 2018 The Lawrence Journal-World. All rights reserved. This material may not be published, broadcast, rewritten or redistributed. We strive to uphold our values for every story published.