Topeka — Greg Robinson switched his voter registration from Republican to Democratic 10 days before filing to run against Democratic Douglas County Commissioner Mike Gaughan in the Aug. 5 primary for the First District.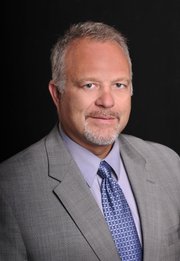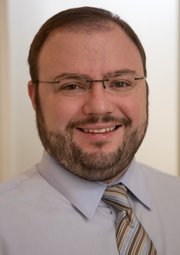 "I expect to get beat up over it," said Robinson, 49, an attorney and former Lawrence police officer.
But, he said, he really is a Democrat.
"I probably should've switched years ago. When you start checking boxes on which party you belong to, I'm a Democrat. If someone thinks voting for me they are going to get a Republican, they're not," he said.
Robinson said he decided to run because he thinks taxes are too high and government gives away too many tax breaks to businesses to locate in Lawrence.
"Economic development money needs to go away. Lawrence sells itself. We don't have to pay anybody to live here," he said.
In 2005, Robinson ran an unsuccessful campaign for city commission. He said he has always had an interest in politics.
He works as a defense and personal injury attorney and contract attorney for the city of Lansing, where he graduated from high school.
Robinson said he served in the Army, worked in business, was a member of the Lawrence police department for just less than two years and then got his law degree at Kansas University in 1998.
The First District includes most of central and eastern Lawrence. No Republican has filed in the race.
Incumbent Gaughan is seeking re-election to his second full-term after being appointed to the seat in 2009.
Before running for county commission, Gaughan worked as a legislative liaison for Govs. Kathleen Sebelius and Mark Parkinson. He served as executive director of the Kansas Democratic Party from 2005 through 2008 and is currently a partner in the political consulting firm Kansas Grassroots. He has a bachelor's degree in history from KU.
Gaughan said his goal is to defend Douglas County against what he described as the shortsighted policies handed down by Gov. Sam Brownback, a Republican, and the Republican-dominated Legislature.
He said 85 counties in Kansas have raised the mill levy since Brownback signed into law cuts in state income tax rates and other changes.
"In my time on the County Commission we've seen state funding cuts for Medicaid services for the developmentally disabled, mental health services, public health and community corrections, as well as an attempt to close the Lawrence SRS (Social and Rehabilitation Services) office, and I've voted to protect Lawrence and Douglas County every time," he said.
In addition, Gaughan said that during his time on the commission, he has authored and passed budget and purchasing reforms to increase public transparency and make sure that contractors are accountable to the taxpayers.
Copyright 2018 The Lawrence Journal-World. All rights reserved. This material may not be published, broadcast, rewritten or redistributed. We strive to uphold our values for every story published.