Photo Gallery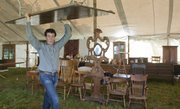 George and Betty Allen estate auction
A large auction of the estate of George and Betty Allen, who lived at the Judge Stephens home at 340 N. Michigan and was built in 1868, will be held Friday, June 6, 2014.
It is not every day that you can lay your hands on a heavy iron stick topped with a gold inlaid cow's head.
Then again, it's not every day that the late George Allen's collection goes up for auction.
"My dad was just a born collector," said Debby Nelson. "He had his regular stops he would make at antique stores and dealers. He did that for at least 65 years. I remember going into so many antique shops and being told not to touch this or that."
On Friday, area residents will get a chance to not only see Allen's collection, but also to buy parts of it. An auction featuring more than 2,000 items will begin at 9 a.m. at the Allen home, 340 N. Michigan St.
Dirk Soulis of Dirk Soulis Auctions said he expects several hundred bidders on site and more than 300 bidders participating remotely, including some curators at museums and historic sites such as Colonial Williamsburg in Virginia.
"There are some real standout items that are gaining national and international attention," Soulis said.
The heavy iron stick is one of them. It's an 18th century Persian iron mace with a sculpted cow's head featuring gold inlay.
If you like your weapons with a little less cow's head, there are also several Kentucky long rifles, an 1858 Remington revolver and a collection of English Victorian truncheons, which we would think of as police batons.
There is a little bit of everything, Soulis said. Allen was a serious collector of furniture, including several in the Pennsylvania and New England styles. Nelson said items related to the Old West, mining towns and railroads particularly interested her father.
Allen, who died in 2007, was a Lawrence attorney for about 40 years, and then became a farmer in retirement. Allen was long considered a noted collector in Lawrence. In the 1990s, he sold a large stereopticon card collection to the Smithsonian Institution, Nelson said. The remainder of Allen's collection is up for sale after his wife, Betty, died last year.
"It will be hard to see some of it go," Nelson said. "But after awhile, the size of it gets to be burdensome. My thought is you just rent things while you are here, and then when you are gone, someone else rents them for awhile."
The sale will be at George and Betty's longtime home, the 1868 Judge Nelson T. Stephens House, which is on the National Register of Historic Places. The home will not be up for sale at Friday's auction, but Nelson said the property will be placed on the market in the future.
Copyright 2018 The Lawrence Journal-World. All rights reserved. This material may not be published, broadcast, rewritten or redistributed. We strive to uphold our values for every story published.