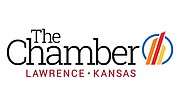 Look for a new logo, new signs and a new name for the Lawrence Chamber of Commerce.
Leaders with the organization announced on Wednesday that the Lawrence Chamber of Commerce now will be known simply as The Chamber. The organization is launching the new brand name after hiring a consultant to help it with matters related to its public image and communication.
The project involved a complete redesign of The Chamber's website, which remains located at lawrencechamber.com. In a press release, chamber leaders said the changes are meant to "reflect an innovative era in its 136-year history."
Copyright 2017 The Lawrence Journal-World. All rights reserved. This material may not be published, broadcast, rewritten or redistributed. We strive to uphold our values for every story published.