Contact KU and higher ed reporter Sara Shepherd
Have a tip or story idea?
---
More stories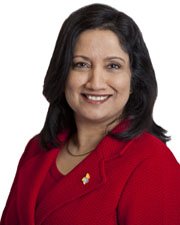 The Kansas University School of Business said it wants to spend money now to save money later.
Anticipating future student and faculty growth, the school is looking to add 17,000 square feet to plans for the new facility the school is set to begin building this summer.
With a narrow window of time before foundation work begins, the school will ask the Kansas Board of Regents for permission to raise money from private donors to fund the addition.
The extra space would add $6.8 million to the current $65.7 million price tag of the four-story building to be built across Naismith Drive from Allen Fieldhouse. But school leaders say it will never be cheaper than right now to expand the building.
"We knew this is a problem we wanted to have," said business school Dean Neeli Bendapudi.
Earlier this year the school and architects presented plans for the building, which included a possible future expansion, to business school alumni. "They kept asking about the numbers," Bendapudi said.
Some suggested to Bendapudi that building the addition this summer, when construction crews and equipment will already be on site, could cost half as much as doing it "when we're busting at the seams," she said.
The school expects that the additional space will go toward both offices and educational space.
The school has reason to anticipate future growth. Student enrollment in the school's undergraduate program increased from 1,023 students in fall 2011 to 1,486 in spring 2014, a bump of more than 45 percent, according to figures provided by the school.
An earlier five-year projection put the school's total student growth rate at 30 percent.
The school also expects to add more faculty to its rosters. As Baby Boomers begin to retire, the school will have to make up their workload. Because senior faculty tend to teach more classes, as their junior faculty counterparts build a research program, it could take 50 percent more faculty members to replace those who are retiring.
With construction beginning in the coming weeks, the school has only a few months to raise the money from donors. To date the school has raised more than $50 million from private donors.
"We hope to make it reality, and to not try is irresponsible," Bendapudi said of the expansion effort. "This is something our alumni wanted, so why not give it a try?"
Copyright 2018 The Lawrence Journal-World. All rights reserved. This material may not be published, broadcast, rewritten or redistributed. We strive to uphold our values for every story published.