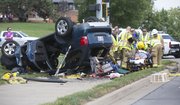 Several people were injured when car ran a stoplight at Clinton Parkway about 2:30 p.m. Wednesday.
Trent McKinley, Lawrence Police Department spokesman, said a white car going west on Clinton Parkway ran a red light and hit two cars going south on Kasold Drive. One vehicle that was hit, an SUV, rolled over from the impact. The passenger in the SUV was taken by LifeStar helicopter to a Kansas City trauma center. No one inside the second car that was hit was seriously hurt.
McKinley said the white car continued west on Clinton Parkway, crossed the median to the south and clipped a Lawrence transit bus, damaging the bus and the bus shelter. No one on the bus was injured. The car's drivers and passenger were taken to Lawrence Memorial Hospital.
The identities of those injured were not available Wednesday.
Copyright 2018 The Lawrence Journal-World. All rights reserved. This material may not be published, broadcast, rewritten or redistributed. We strive to uphold our values for every story published.