Paul Laird had no idea he was on the path to writing one book, let alone two. The Kansas University professor of musicology was on his way to Columbus, Ohio, for a symposium on Leonard Bernstein's "Mass."
"They told me Stephen Schwartz was going to be on the panel," Laird says. "Schwartz wrote the English lyrics for 'Mass.' I thought, 'I'm either going to make a fool of myself, or I'm going to make a contact.'"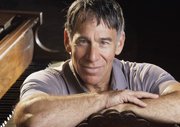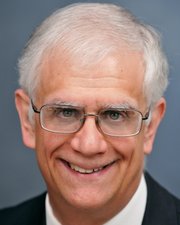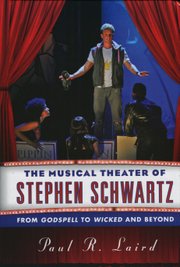 It turned out to be the latter. Schwartz, best known to younger audiences as the man behind the mega-smash Broadway musical "Wicked," liked a lot of what Laird had to say, and the two developed a relationship that led to two articles.
But Laird was hoping for more. His interest grew into an idea for a book on Schwartz's career, which began in the 1970s with the hits "Godspell" and "Pippin."
"His first reaction was 'no," Laird says. "He said nothing was organized and he couldn't get me materials. He said it wasn't the right time for a book on his work."
But Laird persisted and Schwartz eventually relented. He sent Laird boxes stuffed with materials on his shows.
"There was a mountain of material just on 'Wicked,'" Laird says.
So much so he ended up writing an entire book on that show alone. "Wicked: A Musical Biography" was published in 2011.
Now, the book he'd originally planned, "The Musical Theater of Stephen Schwartz: From 'Godspell' to 'Wicked' and Beyond," is available from publisher Rowman & Littlefield.
"Stephen Schwartz is very important in bringing pop music to Broadway," Laird says. "'Pippin' and 'Godspell' are very different shows, but the music was very popular.
"What made 'Godspell' work was the music. I've seen the original version before Schwartz was called in to write a new score, and it's OK. But once the show came out, everyone was listening to that album, the songs were in heavy rotation. I think, without Schwartz's music, 'Godspell' might have been forgotten over time."
Schwartz sent multiple versions of scores and books to Laird, allowing him to study the evolution of each piece. One of the things that quickly emerged was Schwartz's unwillingness to give up on an unsuccessful project.
"The history of Broadway is littered with shows that people work very hard on, nobody comes to, and then close and are forgotten," Laird says. "But Schwartz has almost never been able to let a show die. If it is not successful in its original version, he'll keep working on it with collaborators until he gets it to the place where people are interested in licensing it for performance."
Laird notes that all of Schwartz's early hits landed on Broadway by 1974. He didn't have another hit show until "Wicked" in 2003.
"He wrote 'The Baker's Wife' in 1976 with Joseph Stein ('Fiddler on the Roof'), and it never took off. He continued working on that show until 2005, and, while it's not on Broadway, it's become successful.
"He worked on 'Children of Eden' for 10 years with Charles Strauss ('Annie'). Now, it's very popular and performed a lot by community theaters and churches, but it wasn't right away."
Schwartz has also worked in film, contributing lyrics to such movies as Disney's "Pocahontas," "The Hunchback of Notre Dame" and "Enchanted."
Laird's new book spends a chapter looking at each of Stephen Schwartz's musicals. He examines their development and places their importance in Schwartz's career and Broadway history.
"When you look at Broadway creators as a whole," Laird says, "there are basically two sorts of workers. Some write the same basic show over and over. Leonard Bernstein, Cole Porter, Richard Rodgers, particularly his early collaborations with Charles Hart. Their shows are basically the same.
"Then you have those who are constantly writing different shows. Stephen Schwartz is definitely in that group."
"The Musical Theater of Stephen Schwartz: From 'Godspell' to 'Wicked' and Beyond" by Paul Laird is available from Amazon.com in Kindle and hardcover formats.
Copyright 2017 The Lawrence Journal-World. All rights reserved. This material may not be published, broadcast, rewritten or redistributed. We strive to uphold our values for every story published.