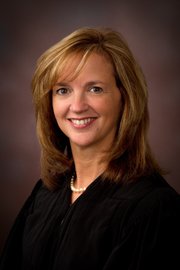 Topeka — Former Kansas Supreme Court Justice Nancy Moritz of Lawrence was sworn in Wednesday as the newest judge on the 10th U.S. Circuit Court of Appeals.
Moritz was nominated to the seat by President Barack Obama in August 2013 and was confirmed by the U.S. Senate earlier this year. U.S. District Judge Eric Melgren administered the oath during a ceremony in Topeka.
Moritz was appointed to the Kansas Supreme Court in 2011 by then-Gov. Mark Parkinson, a Democrat. She served through the end of the 2013-14 term. In the last case decided by that court, Moritz wrote a stinging dissent in the death penalty appeal of convicted murderers Jonathan and Reginald Carr, saying she believed their convictions and death sentences should have been upheld.
Before joining the Supreme Court, Moritz served on the Kansas Court of Appeals from 2004 through 2010. Before that, she served as an assistant U.S Attorney and worked in private practice with the firm Spencer Fane Britt and Browne in Kansas City, Mo., and Overland Park.
Moritz grew up in Tipton, Kan., and attended Washburn University and Washburn University Law School in Topeka.
The 10th Circuit hears federal appeals from district courts in Kansas, Colorado, Utah, New Mexico, Wyoming and Oklahoma. Its main headquarters are in Denver.
Moritz's temporary chambers will be in Lawrence.
The Kansas Supreme Court Nominating Committee will interview candidates next week to fill Moritz's seat on the state high court. The commission will then send the names of three nominees to the governor, who makes the final selection.
The commission consists of nine members. Four non-attorneys are appointed by the governor. Four attorneys are selected by other attorneys in each of the state's four congressional districts. The chair of the commission is selected by attorneys in a statewide vote.
Copyright 2018 The Lawrence Journal-World. All rights reserved. This material may not be published, broadcast, rewritten or redistributed. We strive to uphold our values for every story published.