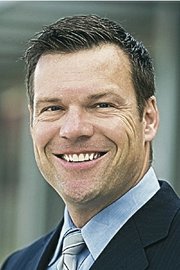 Topeka — Kansas Secretary of State Kris Kobach is projecting more than 381,000 people will cast ballots in primary elections Tuesday, or about 22 percent of the state's registered voters.
That would be down from the 25.2 percent turnout produced in the last similar primary in 2010.
Kobach made the traditional turnout projection during a news conference in Topeka. He said that as of Thursday, there are 1,735,414 registered voters in Kansas, a record high for the state.
That number does not include roughly 18,300 would-be voters whose registrations are currently held up because they have not submitted proof of U.S. citizenship, a new requirement in Kansas.
"And that number's been going down in recent days, I think reflecting the fact that people are realizing there's an election around the corner, and those people who do want to participate and haven't yet responded to their county reminders are doing so," Kobach said.
Since Jan. 1, 2013, Kansas has required new voters — those registering for the first time in their county — to show proof of citizenship to register to vote. Since then, Kobach said, 84 percent of new registrations have been completed successfully, meaning 16 percent of all people attempting to register have not yet completed the process.
Voters whose registrations are still pending have until 5 p.m. Monday to provide the necessary documents.
As of Thursday, Kobach said, more than 39,000 people had already cast advance ballots for the primaries.
Primary elections are open to voters who have affiliated with either the Republican or Democratic parties, as well as those who registered as unaffiliated. But to vote, unaffiliated voters must first fill out new registration forms declaring themselves as Republicans or Democrats.
Tuesday's primaries feature a Republican Party race between U.S. Sen. Pat Roberts and Tea Party-backed challenger Milton Wolf. Also running in that race are D.J. Smith of Osawatomie and Alvin Zahtner of Russell.
Kobach himself faces a GOP primary challenge from Scott Morgan of Lawrence.
In addition, Gov. Sam Brownback faces a primary challenge from Wichita businesswoman Jennifer Winn, a political newcomer who nonetheless has been polling above 30 percent, according to two recent SurveyUSA polls.
Other high-profile GOP primaries include a match-up in the 4th congressional district in south-central Kansas between Rep. Mike Pompeo and former Rep. Todd Tiahrt. There is also a five-way contest for Insurance Commissioner.
For Democrats, the biggest contest is a U.S. Senate primary between Shawnee County District Attorney Chad Taylor and Lawrence attorney Patrick Wiesner. The winner of that race will face either Roberts or Wolf on the Republican side, as well as independent candidate Greg Orman.
There are also primaries for many Kansas House of Representatives seats, including two districts in Lawrence.
Rep. Tom Sloan, a Republican, faces a primary challenge from Jeremy Pierce in the 45th District.
And in the 46th District, former Lawrence Mayor Dennis "Boog" Highberger faces Abbie Hodgson, a former aide to Gov. Kathleen Sebelius, for the Democratic nomination. That seat is currently held by Rep. Paul Davis, who is running for governor. The winner of that primary will face Republican J. Douglas Robinson in the general election.
Another primary in Douglas County is a Democratic race for the 1st District county commission seat between incumbent Mike Gaughan and challenger Greg Robinson.
Copyright 2017 The Lawrence Journal-World. All rights reserved. This material may not be published, broadcast, rewritten or redistributed. We strive to uphold our values for every story published.