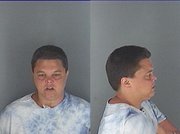 Lawrence police have identified a 38-year-old Lawrence woman as a suspect in the killing of an East Lawrence homeowner.
An arrest warrant for first-degree murder has been issued for Angelica M. Kulp in the death of Christine M. Kaplan, 56, who was found dead last weekend at her home at 1117 New York St.
Lawrence police officers were dispatched to Kaplan's residence on Saturday after they said a friend of Kaplan's called to report the death. Police and the Kansas Bureau of Investigation concluded the death was a homicide and spent more than three days investigating the scene. An autopsy was performed late Saturday night, but results have not been made public.
As the investigation progressed, detectives began to seek a woman who was known to Kaplan and who had possibly stayed at Kaplan's home in the past, according to a news release Thursday from the Lawrence Police Department. On Wednesday afternoon, detectives located Kulp in Topeka, at the Shawnee County Jail, where she was incarcerated on an unrelated charge of burglary. Lawrence detectives interviewed Kulp regarding the death, the news release said.
Kulp had been living at a home in the 300 block of Indiana Street until about a week ago, residents of the home said Thursday.
Lamont Washington, who lives at the home, said Kulp had lived there on and off since 2013, leaving three times for stays at Osawatomie State Hospital to deal with what he described as "schizophrenic" behavior.
"She busts out laughing," Washington said, "talks to herself and starts shaking."
Washington said he didn't know Kulp to be a violent person, although he said he recently had a feeling she was going to attack someone in the house.
"I was shocked to hear (about the arrest)," Washington said. "She was halfway decent to be around when she was on her meds."
Washington said Kulp was released from her most recent stay at Osawatomie about three weeks ago, after a two-week stay in the institution.
He said he did not know Kaplan and was unaware that Kulp may have been staying with her.
Kulp will not return to face her charge in Douglas County District Court until her charges in Shawnee County District Court are resolved, according to Thursday's news release.
Copyright 2018 The Lawrence Journal-World. All rights reserved. This material may not be published, broadcast, rewritten or redistributed. We strive to uphold our values for every story published.