Whether you are a homeowner, a renter or just a kid going off to college, having a properly stocked tool box is the key to Fix-It happiness.
Step 1: Toolbox, tool bag or tool tote — what you put your tools in says as much about you as what tools you have inside. Toolboxes are virtually indestructible and will last a life time; tool bags allow easy access to tools and tend to lend themselves to accommodating most any tool.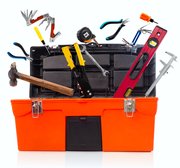 A tool tote is basically a toolbox without a lid. Tool totes are durable like a toolbox and versatile like a tool bag. Totes allow easy access to tools, but do not offer any protection from dirt, debris or friendly, well-intentioned tool borrowers.
Step 2: Curved claw hammer. It is the speed at which the hammer is swung that gives the tool its driving power, not the weight of the hammer. Find one that fits your hand and is easy to swing.
Step 3: Screwdrivers. A good set of screwdrivers or a multi-bit screwdriver may be the most-used tool in the box. Skip the cheap set and go for a good, sturdy set. The tips on the less-expensive screwdrivers tend to break or wear down quickly. Phillips and flat-head screwdrivers are a must, but square-drive and torx drive bits are becoming essential, too.
Step 4: Lots 'o pliers. Choose a standard pair of pliers along with a pair of needle-nose pliers and a pair of diagonal-cutting pliers. Add in a pair of locking pliers (Vise-Grips) and a pair of long-handled tongue and groove pliers and you will be covered.
Step 5: Wrenches. Begin with a small and a medium adjustable wrench, referred to as a crescent wrench. You can add a socket set and a combination wrench set later.
Step 6: Hacksaw. Depending on your project plans and toolbox size, choose a traditional hacksaw or settle for a small utility saw, possibly one with interchangeable blades.
Step 7: Toss in a utility knife, a tape measure and a torpedo level.
Step 8: Complete the kit with an assortment of screws, a handful of finishing nails and common nails. Include a roll of duct tape, a roll of electrical tape, some sand paper, a tube of silicone caulk, super glue, a roll of tie wire, and a can of PB Blaster lubricant. Now you are ready to go out and fix the world!
Copyright 2018 The Lawrence Journal-World. All rights reserved. This material may not be published, broadcast, rewritten or redistributed. We strive to uphold our values for every story published.