Can we talk about what a wonderful year this has been for gardens so far? I haven't had to water once, and yet everything looks healthy and green.

We've got peppers, tomatoes and raspberries. And when we came back from a long weekend away on the Fourth of July, we were happy to discover ― almost as if by magic ― that we had a bower of cucumbers ready to be picked off their trellis.

As a consequence, I've started making refrigerator pickles about once a week.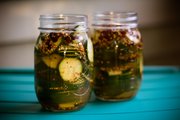 Unlike with a canned recipe, fridge pickles must be kept cold, but because you'll refrigerate them, you can be much more creative with the ingredients. Starting with a basic 1-to-1 ratio of water to vinegar, along with some salt, you can go on to create a pickle that's exactly to your liking ― all without having to fret about pesky things like pH balance and botulism.
Do you love super garlic-y pickles? Toss in some extra crushed cloves. Crave spicy heat? Add a few hot peppers to each jar. Want something a little sweeter? Add a teaspoon or two of sugar.
The recipe below is my favorite, basic recipe. It's a salty, garlic-y classic. By making small batches, as the recipe directs, it's also not overwhelming. I can easily make a few jars of pickles as I'm putting a pot of pasta on to boil for dinner.

These pickles will keep for a few weeks in the fridge, but we rarely have a batch last that long.
Basic Refrigerator Pickles
Makes 2 pint jars
1 ½ cups water
1 ½ cups white wine vinegar
2 tablespoons salt
2 tablespoons pickling spice
2 garlic cloves, crushed
2 cucumbers, sliced
2 pint-sized, clean glass jars, or similarly sized containers
Add the water, vinegar, salt and pickling spice to a sauce pan to make a brine. Bring the pot to a boil, stirring to dissolve the salt. Remove from the heat.
As the brine is cooking, wash and slice 2 cumbers and add them to the jars. Add a crushed clove of garlic to each jar, too.
Working carefully ― the brine should still be hot ― use a canning funnel to pour the brine over the pickles to fill the jar. Cover the jars with lids, and put the pickles in the fridge for at least 24 hours before eating.
One last thing: the puckeriness of pickles is a matter of extreme personal taste, but if your pickles end up too tangy, one trick is to run them under cold water for about 30 seconds before eating.
— Meryl Carver-Allmond lives in Lawrence and writes about chickens, babies, knitting, gardening, food, photography, and whatever else tickles her fancy on any given day at mybitofearth.net.
Copyright 2018 The Lawrence Journal-World. All rights reserved. This material may not be published, broadcast, rewritten or redistributed. We strive to uphold our values for every story published.