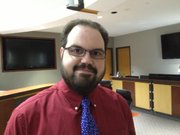 The Republican Party race to represent western Lawrence neighborhoods and rural, western Douglas County townships in the state House features a clear choice for voters — veteran legislator Tom Sloan and political newcomer Jeremy Ryan Pierce.
The two differ on nearly all major issues facing the Kansas Legislature.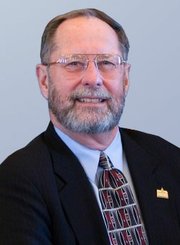 Since there is no Democratic candidate for the House seat, the winner of the Aug. 5 GOP primary will represent the 45th House District.
Sloan, seeking his 11th two-year term, is a moderate Republican. Pierce, who briefly ran for the state Senate in 2012 before dropping out of the race, holds more conservative views.
Sloan voted against the tax cuts championed by Gov. Sam Brownback that reduced income tax rates and eliminated state income taxes for nearly 200,000 business owners.
To avert looming revenue shortfalls, Sloan said he would support freezing or restoring some of the tax cuts to preserve funding for core functions of government, such as education, safety-net programs, corrections and infrastructure.
"Raising taxes is never popular but that it is essential if we are going to maintain the quality of life for our state and our people going forward," Sloan said.
Pierce said he supports the tax cuts and said state government spending should be cut further.
"Within the government can be found programs that are redundant and things that could easily be eliminated or streamlined to keep core services running without raising taxes," Pierce said.
On the question of renewable energy, Pierce, who is backed by the Kansas Chamber of Commerce, said he would vote to eliminate the state's renewable portfolio standards that require utilities to produce 20 percent of their electricity from renewable sources by 2020.
Sloan supports the renewable energy standards and has voted against moves to repeal them.
On school funding, Pierce says he would allow the use of tax dollars by parents to send their children to the school of their choice, including private schools.
"I would set up a program that funds all schools like colleges get funded, and take that to all levels of education," he said.
Sloan said using tax dollars to send children to private schools was unfair. He said the state needs to properly fund the education system from pre-kindergarten through post-secondary. "Every time you reduce state aide, you are forcing local property taxes to rise," he said.
Pierce opposes the Common Core standards for reading and math, saying that the federal government is trying to impose it on Kansas.
Sloan supports Common Core and notes that it was not imposed by the federal government but developed by a multi-state group.
Sloan, 68, a farmer and strategic consultant, is chairman of the House Vision 2020 Committee, which tackles long-term issues. He has long been involved at the state and national level with energy, water resources, health care and higher education issues. He is married and has three grown children.
Pierce, 31, works as a facilities assistant at Veritas Christian School and as an administrative assistant for a music education company called Joyful Noise Music Academy. He is single.
Copyright 2018 The Lawrence Journal-World. All rights reserved. This material may not be published, broadcast, rewritten or redistributed. We strive to uphold our values for every story published.