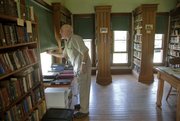 While Lawrence celebrates the $18 million renovation of its public library, residents of the small village of Vinland, 12 miles southeast of Lawrence, are working to keep their one-room library intact and unchanged.
The Coal Creek Library Association was founded in November 1859 when a group of neighbors sent $10 to Philadelphia, Penn., for books. For the next 41 years the collection was housed in the homes of early Vinland librarians. In 1900 a library building was constructed on a lot purchased for $10.
A week ago historic preservationist Ray Wilber, of Baldwin City, swept the library's wood floors near a cast-iron wood stove and opened windows to catch a summer breeze. There's no air conditioning. In fact, right now there's no electricity. If an occupant wants to use a fan he runs a cord out the window to an electrical outlet on an adjacent house. Community volunteers such as Wilber share the duties involved in opening the library from 1-4 p.m. Sundays from April through October.
"I see it primarily as a museum. Kind of a time capsule," Wilber said. "Mostly, I just want it to stand as it is for another 100 years."
There's a need for some foundation and window work in the future, but the community is supportive in maintaining the library. Ten years ago the porch was rebuilt and the building re-roofed.
"Basically we're keeping the weather out," Wilber said.
Inside it looks much as it did in 1900. Around the exterior walls bookshelves hold a collection of more than 2,000 books. Several of the first 100 books purchased, including "The Life and Times of Alexander Hamilton," by Samuel M. Smucker, and "Fruits, Flowers and Farming," by Henry Ward Beecher, are still on the shelves. Photos of the founders of the library and a portrait of James H. Lane, U.S. senator from Kansas, are on the walls. Inside the front door is a desk with a donation can. "There is no funding," Wilber said. "There's a donation can on the desk and it accumulates maybe $50 a year."
Some references list the Coal Creek Library as the oldest continuously operating library in Kansas. The Lawrence library was founded earlier, in 1854, but William Quantrill's raiders destroyed it in 1863 and a circulating library wasn't started again until 1865. Regardless of the significance of the streak, that's not the focus these days.
"Most of the traffic that we've seen is for research," said Stan Lawson, a volunteer librarian and a local historian whose family has lived in the community for several generations. "People come through looking for their family history."
For Sylvie Mitchell, 15, of Vinland, that family history doesn't go back too far. "I remember when I was a little kid, it was one of my favorite things to walk down to the library and see Martha the librarian," Mitchell said. "They had a little section of kids books in the back and I would take my wagon over there and come back with it just completely full of books. The library was always a big thing for us."
As recently as 2010, Martha Kelley Cutter Smith of Vinland, at the age of 105, would be at the library on some Sunday afternoons to greet visitors. She was a descendant of the original Cutter family in whose home the library originated. She started as the librarian in 1926, and except for a break from 1944 to 1956 to raise children, she maintained responsibilities as the librarian. In 2002, at the age of 97, Kansas honored her as the oldest female worker in Kansas. Smith died in January at age 108.
Preserving buildings like the Coal Creek Library is important to the community and residents' efforts have enabled Vinland to maintain several unique structures.
"This little town is remarkably intact and unaltered from the way it was originally built," Wilber said. In fact, the area has five buildings on the National Register of Historic Places: the library, the Barnes Apple Barn, the Vinland Fairgrounds Exhibit Building, Vinland Grange Hall and Vinland Presbyterian Church, where basketball legend James Naismith once preached.
As the Lawrence library updates and renovates, Lawson, Wilber and others in Vinland seek to maintain a sense of the past. They may even cull books published after 1950.
"We have some classics in here," Lawson said. "It's kind of neat to see a book that was published 150 years ago. It has that old book smell. Today's generation, to some degree, are going to be pretty far removed from an actual physical book."
Wilber would like to add a cabinet for a photo archive, but not much more.
"You won't ever see a computer here," Wilber said.
Once the sweeping is done, the windows are opened and the guest book is signed, there isn't a lot to do on a volunteer shift, Wilber admits. "It's more or less my reading time."
View a photo gallery of the Coal Creek Library and Martha Smith online.
Copyright 2018 The Lawrence Journal-World. All rights reserved. This material may not be published, broadcast, rewritten or redistributed. We strive to uphold our values for every story published.