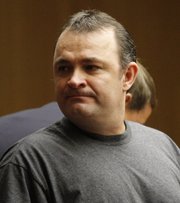 A 41-year-old Lawrence man was sentenced to 25 years in prison Friday after a retrial in May found him guilty for a second time of raping a Kansas University student in 1997.
Judge Michael Malone sentenced Robert E. Grey to 300 months in prison, the least amount of time possible under Kansas sentencing guidelines, for the rape of a 20-year-old KU junior. The new sentence is 16 months shorter than the one Judge Peggy Kittel issued after Grey's first conviction in 2009.
A Kansas Court of Appeals panel awarded Grey a retrial last year. The panel found that prosecutorial misconduct deprived Grey of a fair trial the first time.
At Grey's retrial in May, the victim testified a man approached her with a gun on May 11, 1997, in the parking lot of Naismith Hall, where she lived at the time. The victim, then a 20-year-old KU junior, said the man drove her in her car to a dirt path near the tennis courts at Lawrence High School and raped her.
The case went cold for 10 years until the Kansas Bureau of Investigation matched a fingerprint found on the victim's car with Grey's fingerprint. Lawrence police arrested Grey after testing indicated his DNA matched a sample found on the victim during a sexual assault examination.
Assistant District Attorney Eve Kemple argued for the maximum sentence of 334 months in prison due to the use of a firearm in the crime.
"This crime was more heinous than the average rape," Kemple said. "She was told repeatedly that she would be killed."
The defense argued for the lesser sentence, pointing out Grey's helpfulness and respect for corrections officers at the Douglas County Jail and his supportive family. Grey told Malone before sentencing that he has been striving to better himself while behind bars.
"I went to bed 2,500 nights in a place that breeds negativity," Grey said. "I've had the opportunity to take a different attitude and choices. This has been a journey for me to be the best person I can be when I am entered back into society."
Grey has already served nearly seven years in custody, which will count toward his time served. Grey will have to register as a sex offender and will have 36 months of parole upon his release.
Copyright 2018 The Lawrence Journal-World. All rights reserved. This material may not be published, broadcast, rewritten or redistributed. We strive to uphold our values for every story published.