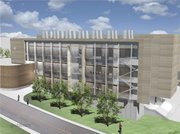 The family of Kansas University alumnus Donald Slawson has made a $16 million lead gift to help construct a building that will kick off KU's planned Innovation Way.
"This is the anchor building for all of Innovation Way," said Robert Goldstein, associate dean for the natural sciences and mathematics.
Innovation Way will encompass a corridor of buildings from Haworth Hall to a new "Research Partnership Zone" on West Campus that will connect natural, physical and life sciences with engineering and pharmacy.
Slawson Hall will be one of two buildings composing the Earth, Energy and Environment Center, or EEEC, which will integrate research in energy, geology, earth science and numerous other fields. The 95,000 square-foot Slawson Hall, near the corner of Naismith Drive and Jayhawk Boulevard, will include classrooms, auditoriums, laboratories and other multipurpose facilities to foster a wide variety of research. A portion of Slawson Hall will be dedicated to the transfer of discoveries and developments made at KU to real-world applications.
The second building, to be named Ritchie Hall in honor of KU alumni and donors Scott and Carol Ritchie, will be about 50,000 square feet.
Together, the project is expected to cost $82 million and be completed in 2017.
Slawson, who died July 7 at the age of 80 from complications of Alzheimer's disease, was a leading oil and gas and real estate developer.
A lifelong resident of Wichita, Slawson graduated from KU with a political science degree in 1955.
At the age of 24, he founded Slawson Exploration, an oil and gas firm that become one of the most active oil drilling operations in the United States. Then in the 1970s he expanded into residential and commercial real estate.
Slawson was appointed to two terms on the National Petroleum Council by Presidents Ronald Reagan and George Bush, and served on the boards of leading Kansas companies and the Kansas Board of Regents, which he chaired from 1987 to 1993.
"The generosity of Don and his family has made it possible for us to move forward on this landmark project that advances our efforts to identify new and sustainable sources of energy for our world," said KU Chancellor Bernadette Gray-Little.
"With Don's passing, KU and Kansas have lost a true advocate for higher education, but his legacy will live on and benefit countless others through Slawson Hall. On behalf of the university, I offer my sincere condolences to Judy, their children and all who are grieving Don's death," Gray-Little said.
Todd Slawson, the youngest of three Slawson sons and president of the family's oil company, said, "The Slawson family has cherished KU for five generations. It is a fitting tribute that Slawson Hall will house and integrate both geology and petroleum engineering curricula, noting Don's passion for the oil industry and higher education."
The gift from the Slawson family counts toward the university's $1.2 billion fundraising campaign that is being managed by the KU Endowment.
"We're delighted to have this significant investment for our students in the sciences," KU Endowment President Dale Seuferling said of the Slawson gift. "It definitely puts us on track to move forward."
Copyright 2018 The Lawrence Journal-World. All rights reserved. This material may not be published, broadcast, rewritten or redistributed. We strive to uphold our values for every story published.