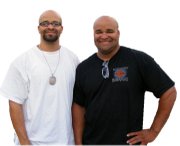 Kansas City, Kan. — A 12-person federal jury on Wednesday found Lawrence twins Los Rovell Dahda and Roosevelt Rico Dahda, 32, and associate Justin Cherif Pickel, of San Lorenzo, Calif., guilty of conspiracy after a monthslong $17 million drug trial.
The jury handed in its verdict just before 11 a.m. in its first day back since July 15. Deliberation in the case spanned two full days and most of Wednesday morning.
Each defendant was also found guilty of numerous lesser drug charges ranging from drug possession and distribution to using a cellphone as part of the conspiracy and maintaining a drug premise. For conspiracy, however, Los Dahda and Pickel face a mandatory minimum sentence of 10 years in federal prison with life a possibility. Because of prior convictions, Roosevelt Dahda faces a minimum of 20 years. Judge Kathryn Vratil said Wednesday that sentencing would be scheduled soon. The government is also seeking a $16.9 million money judgment against the defendants.
Los Dahda was also charged in the case with continuing a criminal enterprise for committing multiple federal drug crimes while also serving as a supervisor or organizer of at least five fellow codefendants. But the jury on Wednesday found him not guilty of that crime. Had he been found guilty, Los Dahda faced a mandatory minimum sentence of 20 years.
The Dahdas and Pickel, a 34-year-old Lawrence High alumnus, were among 43 people arrested in Kansas and California and charged here in 2012 after a sweeping investigation by the Lawrence-Douglas County Drug Enforcement Unit and the Drug Enforcement Administration. The prosecution, led by Assistant U.S. Attorney Terra Morehead, said the seven-year conspiracy funneled more than 8,000 pounds of marijuana to Lawrence and the Kansas City area, much of it coming from California. Seated next to Morehead at the prosecution's table, as they have been throughout the trial, were Lawrence detectives Mike McAtee and Charles Cottingem.
Wearing a tan dress shirt and olive pants with his hair slicked back, Pickel paced between his table and over to his family, occasionally grasping his young son's hand in the moments before the jury entered the courtroom Wednesday. When his guilty verdict was read, Pickel looked toward his wife, pursed his lips and shrugged. Pickel was found guilty of setting up a marijuana growing operation in his California home and transporting marijuana from California for the Dahdas. Investigators found 38 pounds of marijuana stored in a false compartment of a custom-made fuel tank when Pickel was stopped in Nebraska in April 2012.
The Dahdas, both in suits, remained seated until being remanded back into custody. As their verdicts were read, each remained still, with hands clasped. Family present on behalf of each defendant also remained silent throughout the reading of the verdicts.
Included among the other charges of which Los Dahda was found guilty was maintaining a place to store or distribute marijuana — in this case, the former Grandaddy's BBQ at 1447 W. 23rd St. The only other guilty verdict for Pickel was using a cellphone in furtherance of the drug conspiracy. He was found not guilty of one other cellphone charge and not guilty of two counts of attempting to possess marijuana with the intent to distribute.
All other defendants pleaded guilty between 2012 and before the trial's April 17 onset, and 16 provided testimony as part of plea deals. Most of the case's other defendants are also awaiting sentencing. The Dahdas have been in federal custody since their June 2012 arrest. Pickel had been free on bond since 2013; on Wednesday he emptied his pockets before being turned over to U.S. Marshals following his guilty verdict.
Attorneys and family of the defendants did not comment after Wednesday's verdict. Morehead said assistant U.S. attorneys were not permitted to comment on cases. A spokesman for U.S. Attorney Barry Grissom said he did not have anything to add Wednesday.
"I think the verdict speaks for itself," he said.
Copyright 2018 The Lawrence Journal-World. All rights reserved. This material may not be published, broadcast, rewritten or redistributed. We strive to uphold our values for every story published.