Ted's Taphouse owner Ted Nguyen gets a lot of flak for the lack of signage outside of his 4-month-old business at 1004 Massachusetts St. While some may worry about losing potential customers, Nguyen is putting his efforts elsewhere.
"I tell them we're too busy selling chicken, beer and having fun," he says.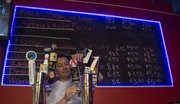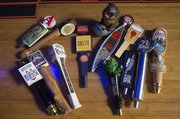 Housed in the former Oh Boy! Chicken space, Ted's Taphouse is Lawrence's only craft beer hang out spot with gluten-free fried chicken on the menu. In the front space of the building is Pho (formerly known as Wild Pho), which is owned by the Nguyen family. His family has owned a restaurant in downtown Lawrence since 1982, he says.
Before putting two restaurants and a bar in one place, the entire space was Angler's Seafood House, owned by Nguyen, that featured fresh fish flown in three times a week to serve high-end gourmet seafood dishes.
"It was difficult to maintain that, and the hours were so long, so I decided I need to live life a little bit," he says.
But rather than completely abandoning Angler's, he ditched the seafood and expanded the bar. A member of the Lawrence Brewers Guild, six years ago Nguyen owned the only restaurant in town exclusively with craft beer options on tap, let alone an entire counter of craft beer handles.
"It was one of those things where other merchants in town thought it was crazy that I commit to craft beers, but it was a passion of mine," he says. "I enjoy the people, camaraderie and culture that is around the whole craft beer movement. So for us here [at Ted's], opening was a continuance, but I just wanted something smaller where we can have some great beer and simple food."
Simple is one of three words Nguyen uses to describe the low-key, 27-seat taphouse. Using chicken as an anchor on the food menu, he also likes to experiment with other handmade dishes — slow braised goat tacos and taquitos appeared on the menu a couple of weeks ago — while still keeping everything under $8.
"It's not like at Angler's where my plates were $22 or $25 a plate," he says. "Everything we do we create (we sell for under) $8, and that's a simplicity that I enjoy."
The second descriptor is "approachable."
With the recent boom of the craft beer movement, Nguyen has an educated staff guiding customers about brews, rather than scaring them away with an intimidating chalkboard sign of menu offerings and no information.
At the liquor store, Nguyen says, a six-pack of craft beer could cost $12. At Ted's, he offers small 10-ounce pours (in addition to 16-ounce pours) for $3.50 so people can try a new beer without a "full financial commitment."
He stresses the importance of establishing relationships with the breweries who often overlook Lawrence as a good market for craft beer.
"Lawrence is much more hip than we are given credit for," Nguyen says. "We have sold more of beers of certain breweries than some regions and some states have in the entire year," he says. "So there is a big movement here. They aren't quite sure what to do with us."
Nguyen says it's his job to put a good name out for breweries like Evil Twin, Avery, Horny Goat and New Belgium, just to name a few on tap, now being introduced to the Lawrence community.
"We are an extension of their capabilities because they can't talk to the customers," Nguyen says. "They make wonderful beer and it's our job to represent that."
And they do it with passion and fun, he says. Fun being the final descriptor of Ted's.
"Welcome to the party," he says. "Finally, people."
Copyright 2018 The Lawrence Journal-World. All rights reserved. This material may not be published, broadcast, rewritten or redistributed. We strive to uphold our values for every story published.