If you have been enjoying the flavor of sweet, delicate blackberries that are in season right now in much of the Midwest, you will be happy to know the plants are a great addition to your garden. They are really the easiest fruit to grow in Kansas.
Sometimes when I mention blackberries, I hear two words that strike fear in the hearts of many gardeners: thorns and chiggers.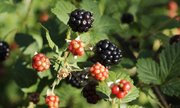 I can relate, as my own childhood memories include picking both wild and cultivated blackberries from thorny, chigger-filled patches.
Thanks to plant selection and vegetative reproduction of plants over the last few decades, however, blackberry growing and picking has improved.
Several thornless varieties are available that perform well in this area. The plants of these improved varieties also stand up taller than the wild types or can be trained along a fence or trellis to simplify picking.
Varieties
Kansas State University and Missouri State University both recommend Navaho, Apache and Ouachita (pronounced wa-chi-tah) blackberries for this area. They are all thornless and described as erect varieties. They also all have firm, medium-sized fruit and produce from July to early August.
Apache has proven itself as one of the most cold-hardy and productive varieties of blackberries that can be grown in this area.
Chester and Triple Crown thornless blackberries are also recommended for growing in Kansas, but these two varieties have semi-erect canes and will require support from a fence or trellis. Both produce medium to large berries from mid-July into August. Hull is an older, thornless, semi-erect variety that is still recommended by KSU.
Site selection
Blackberry plants need full sun and can be planted in rows or clusters. If you have a fence or trellis already, this may be a good place for semi-erect varieties to grow along. Otherwise, just ensure they have plenty of space.
Blackberries are adaptable to a wide range of soil conditions although well-drained, slightly acidic soils provide the best conditions.
Planting
Plant blackberries in early spring for best results. If plants are potted, simply transplant.
If roots are bare of soil, soak the plants and set them into the ground a few inches deeper than they were in their previous planting. You should be able to see a line on the stem indicating the previous soil depth.
Plants should be placed about 3 feet apart. If planting in rows, leave more space (8 to 10 feet) between rows to ease harvest as the plants grow.
Maintenance
Fertilize annually in the spring according to soil test results. Mulch around plants and control weeds for best plant vigor.
Prune the tips of canes over the summer by removing the top 2 to 3 inches. Pruning will encourage stockier, better-branched plants. After blackberries are established, plants may also need to be thinned annually.
— Jennifer Smith is a former horticulture extension agent for K-State Research and Extension and horticulturist for Lawrence Parks and Recreation. She is the host of "The Garden Show." Send your gardening questions and feedback to LawrenceLiving@ljworld.com.
Copyright 2018 The Lawrence Journal-World. All rights reserved. This material may not be published, broadcast, rewritten or redistributed. We strive to uphold our values for every story published.