In the last New Yorker magazine of 2013, writer Craig Mod penned a piece titled "Goodbye, Cameras."
He traces his history with cameras from the 35mm Nikon 8008 and the medium-format Hasselblad film cameras to his most recent Panasonic GX1 — a digital micro-four-thirds camera. Each new camera added technological improvements and inspiration to his work. But after a recent trip to Japan he suggests he may be done with cameras.
Carrying the GX1 as well as an Apple iPhone 5, Mod found the smartphone to be the more indispensable creative tool. Comparisons between images taken from his iPhone and his Panasonic did reveal differences in quality, but they weren't that significant.
Photo Gallery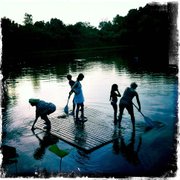 Behind the Lens: Smartphone photography
Smartphones with cameras have many visually creative applications for photographers, including the ability to communicate and share images immediately through social media networks.
The joy for Mod was the ability to immediately share his iPhone photographs with family and friends through social media networks. Mod found that his smartphone made him more responsive to his environment, and he used the device to quickly "capture, edit, collate, share and respond."
I love all types of cameras, be it an old Rolleiflex twin-lens film camera or a Sony point-and-shoot the size of a large credit card. But Mod is pretty spot on in regards to the versatility and social engagement aspect of today's smartphones.
Whether the quality is equal to a 35mm digital single-lens reflex (DSLR) is not the issue. The bottom line is, are the photographs interesting or visually stimulating? Do they entertain, educate or communicate something of value to yourself or a viewer? If they are successful in these terms, and can be faithfully reproduced in an appropriate medium, it doesn't matter what tool you use.
For these reasons, I find myself often reaching for my smartphone for visual documentation. In fact, on a recent seven-day bicycle trip, I relied only on my iPhone for photographs. Here are some other ways I've used my iPhone's camera.
• The iPhone 5 has a built-in panorama option that does a great job stitching together multiple images. I used this option on a recent vacation to capture wide scenes inside a lighthouse, my car and on a hike. I would have required a special wide-angle lens and software to accomplish the same thing with my 35mm DSLR.
• My phone is always with me, ready to respond to anything visually interesting. Before a concert, I was struck by the quality of light illuminating a fellow bandmate. My iPhone was quickly and unobtrusively in my hands for a photo. The resulting image printed to a nice-quality 12-by-12-inch print.
• Covering a breaking news assignment for the Journal-World, I used my iPhone to take a photograph so I could immediately email it back to the newsroom to post the image online.
• Photographing a prairie landscape and wildflowers with a DSLR, and without a macro lens, I was unable to get close-up shots of the flowering blossoms. My iPhone focused closer and I could also send the pics immediately to Facebook. The photos were of high enough quality to publish in the newspaper.
• I photograph many items with my smartphone to easily access odd data and information. I'll photograph a parking lot location before a flight or books and CDs to look up later. I've photographed trailhead maps so I can refer to them while on a hike.
The practical uses and visual creative possibilities are endless and as the quality gap decreases between cameras and smartphones, there are more reasons to reach for the device. Besides, you can't call your mother from a DSLR.
— Chief Photographer Mike Yoder can be reached at 832-7141. Check out more photos at ljworld.tumblr.com.
Copyright 2018 The Lawrence Journal-World. All rights reserved. This material may not be published, broadcast, rewritten or redistributed. We strive to uphold our values for every story published.