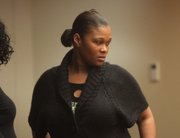 A 38-year-old woman convicted of distributing cocaine from a day care she operated out of her North Lawrence home was sentenced Friday in Douglas County District Court to 14 months in prison despite pleas for probation.
Judge Sally D. Pokorny sentenced Tiffany C. Hubbard to serve time for the five counts of which she was found guilty in a December jury trial. Pokorny also said Friday that she believed Hubbard lied under oath while testifying during the trial.
Hubbard had been convicted of two counts of distributing cocaine, two counts of using a cellphone to distribute the drug and one count of drug possession. The jury hung on five other counts involving distribution and possession of drug paraphernalia and those charges were dropped Friday.
Pokorny on Friday sentenced Hubbard to serve 14 months each on the distribution charges, 10 months for possession and seven months each on the charges of using a cellphone — all to run concurrently.
According to prosecutors, when Hubbard took the stand during her trial in December she testified that she was only a user, that she bought from an undercover informant and an ex-boyfriend but never sold the drugs. But during a presentence investigation, Hubbard contradicted that statement, saying she "got caught up in the use and distribution of drugs."
Having reviewed the investigation, Pokorny said she believed Hubbard committed perjury and said that because she was willing to lie under oath to avoid the consequences of her actions, she didn't believe Hubbard would be honest enough to comply with probation.
"I'm not going to put you in a position where you can manipulate us anymore," Pokorny said.
Hubbard's defense attorney, John A. Frydman, had asked for probation and an order for Hubbard to enroll in a drug treatment program, saying Hubbard worked full-time at a nursing home to support three children.
After Pokorny read Hubbard's sentence, Frydman told the court the defense planned to appeal the decision. In the meantime, Hubbard will be taken into custody. Pokorny said Hubbard would have the opportunity for a $5,000 bond once the appeal is filed.
Pokorny also ordered Hubbard to pay $2,230 in restitution that included Kansas Bureau of Investigation lab fees and money used by investigators during drug buys.
In October 2012, police said they discovered drugs at Hubbard's Children's Playpen day care at 766 Lake St. and state officials from the Kansas Department of Health and Environment issued an emergency order to close the day care. According to police reports, the home was searched on suspicion that the distribution of crack cocaine and marijuana was taking place on the property.
According to lead prosecutor Amy McGowan, at least two sales took place with children present, including one when a half dozen children slept in the living room while a confidential informant purchased crack cocaine from Hubbard.
Frydman said Hubbard, who had no prior criminal history, had gotten mixed up with bad people and had since relocated from her North Lawrence home in hopes of avoiding those influences.
On Friday, Hubbard confirmed the move and insisted she wasn't a bad person.
"I want to be allowed the chance to get my life back together," Hubbard said.
Also on Friday, Pokorny acknowledged that the unusual setting of a day care created additional interest in the case but the reason that it concerned her was not solely because drugs were involved but with her knowledge of the types of people who come to buy the drugs.
"They're often very dangerous people," Pokorny said.
Copyright 2018 The Lawrence Journal-World. All rights reserved. This material may not be published, broadcast, rewritten or redistributed. We strive to uphold our values for every story published.