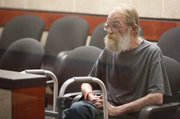 Larry L. Hopkins, a 67-year-old Lawrence man charged with first-degree murder in the November 2013 shooting death of his wife, pleaded not guilty on Friday as prosecutors and Hopkins' own lawyer work on negotiating a plea deal.
Hopkins entered the plea in Douglas County District Court after waiving a formal reading of the prosecution's charges against him. Judge Michael Malone set an April 14 jury trial date.
As Hopkins rose from his seat and prepared to leave the courtroom, he became emotional and at one point removed his glasses to wipe away tears. Defense attorney Clinton Lee said Hopkins has been going through a grieving process while in jail since his Nov. 5 arrest after the death of his 61-year-old wife, Margaret Hopkins.
"He and his wife from what I can gather had a close, loving relationship," Lee said. "Whenever you lose a close loved one it's traumatic. The longer he's sat there, he's been thinking about it."
Lee said he and prosecutors are in plea negotiations.
Hopkins is in Douglas County Jail on a $150,000 bond. Lawrence police allege that Hopkins shot his wife in their home in the 1600 block of West 2nd Terrace because of her ongoing health problems. Among her ailments were arthritis, diabetes, nerve damage and knee trouble.
Family and neighbors have said that Larry Hopkins served as Margaret's primary caregiver but that his health had also begun to deteriorate in recent years. In addition to heart problems, Larry Hopkins had a stroke a little more than a year ago.
On Friday, Lee said Larry Hopkins is now stable and receiving regular care.
Hopkins is scheduled to return to court on April 3 for a pretrial hearing.
Copyright 2018 The Lawrence Journal-World. All rights reserved. This material may not be published, broadcast, rewritten or redistributed. We strive to uphold our values for every story published.