Should Valentine's Day plans change as you grow closer to your partner and the relationship becomes more serious? Is it important to shell out big bucks to show that you care? Three local couples at various stages in their relationships share some tips and tricks about gifts, activities and restaurants in Lawrence to ensure a successful Valentine's Day.
Natalie Sellers and Josh DeBoer, dating nearly two years
Natalie and Josh met as students at Kansas University in 2010, but didn't start dating until two years later. As student assistants for New Student Orientation, Josh would regularly hand Natalie one of the random business cards on the front desk as he was leaving and say, "here's my card," Natalie recalls while laughing.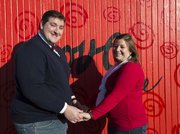 A couple of dates and a few clarified "signs" (Josh claimed he was oblivious) later, they officially started dating. This April will be their second year together.
Sage Couple Advice
Gifts: Set some price limits, and look in stores where your partner shops. Natalie goes to Kansas Sampler, 921 Massachusetts St., because of Josh's love for KU sports. Josh looks for gifts in Target, Kieu's, 738 Massachusetts St., and Francesca's, 742 Massachusetts St. When Natalie pointed out a watch she really liked while they were out shopping last year, Josh quickly took a photo with his phone to search for a similar one to give her later for Valentine's Day.
Activities: Extend Valentine's Day by planning an outing for another day later that month, whether it's tickets to a concert or tickets to a KU basketball game. "That way, you have the experience of being together tied to that event, which makes it even more special," Josh says.
Restaurants: Two of their special occasion favorites are 715 restaurant, 715 Massachusetts St., and Merchant's Pub and Plate, 746 Massachusetts St.
Lauren Van Sant and Nate Presnell, recently engaged
It seems eHarmony has another success story for its next commercial (rehearsed spins and laughs are ready to go). After exchanging a couple of messages on the dating site, Lauren and Nate had their first date at Yokohama, where they both purposefully made the waitress feel as uncomfortable as possible, and ended the night watching "Alien" at Nate's apartment. This somewhat strange night is representative of most of their interactions — and recent engagement.
Nate proposed right before Christmas at the end of 2013, surprising her as she hauled a trip's worth of groceries into her apartment. "It was a scene out of a horror film because there were no lights on except for a light in my room," Lauren says. When she saw scattered rose petals on the floor, she thought, "he bought me flowers before we are heading out of town tomorrow; they're just going to die." Meanwhile, Nate had been kneeling with a semi-circle of petals around him for 45 minutes to avoid ruining the set-up.
The first thing she said following an elated "yes" was that she forgot the toilet paper in the car.
Sage Couple Advice
Gifts: The Toy Store, 936 Massachusetts St. Every day should feel like Valentine's Day as far as gestures go, so stay true to the tone of the relationship. Last year Lauren received watermelon sunglasses, a pink unicorn and a Lego Stormtrooper, as well as tea, chocolate, flowers and personal cards.
Activities: Goof off at Dave and Buster's for an afternoon, which is what they did last year after dinner at T-Rex Cafe in Kansas City. Hold car dance parties. Or go to Southwind Stadium 12 to see a horror film, which are actually sort of hard to find during such a classically romantic holiday. A more thrifty alternative is to rent some of your favorite horror films from Liberty Hall and make a theme night out of it.

Restaurants: Yokohama, 811 New Hampshire St., or Wa, 740 Massachusetts St. If you go to Wa, try the "love boat" dinner option, meant for two people. This includes sashimi, sushi, gyoza, tempura combination and chicken teriyaki, all of which is served on a boat. "It's actually pretty embarrassing, but really good," Lauren said.
Alice Karakas-Neuman and Matt Neuman, married for about 10 years
Alice and Matt met at a restaurant where they both worked in college in 2001, and have been together ever since. This May will be their 10th wedding anniversary. Now a married couple with two small children, their focus has shifted from celebrating each other to celebrating the entire family on Valentine's Day. "I might bake something with my older son that we can then give to Dad," Alice says.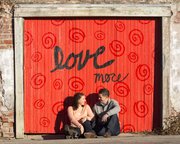 On Valentine's Day this year, they are going to their 4-year-old's parent-teacher conferences first and having an early dinner at Six Mile Chop House, 4931 W. Sixth St., so they can relieve the baby sitter of her duties so she can make her Valentine's Day plans.
Sage Couple Advice
Gifts: Buy something together that you might really need or want. They've done sheets, towels and, this year, luggage. Flowers are good no matter where you're at in the relationship, Alice says. Other ideas include Lied Center event tickets, gift certificates for massages, and personalized items with family photos. "You can't go wrong with Jayhawk basketball tickets," Alice says.
Activities: Order a town car for the night and drink champagne (if you're headed to Kansas City). Stay at a hotel like Eldridge, 701 Massachusetts, or the Oread, 1200 Oread Ave., for the night, so you can sleep in the next day, a luxury you rarely get as parents.
Restaurants: A fine dining experience, like Cafe Beautiful, 730 Massachusetts St., that you plan for in advance and make reservations because it's so hard to get into.
Copyright 2018 The Lawrence Journal-World. All rights reserved. This material may not be published, broadcast, rewritten or redistributed. We strive to uphold our values for every story published.