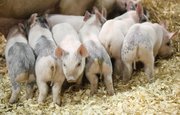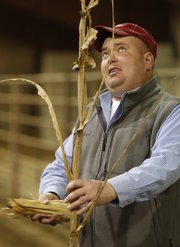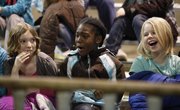 Fourth-graders from throughout Douglas County were treated this week to a slice of pizza, some ice cream and fresh vegetables.
But before they could enjoy those treats, they first had to learn where all the ingredients for those foods came from.
From the grains that make the flour for the crust, and the cows and pigs that eventually become beef and pork toppings, to the dairy cows that provide the milk that gets turned into cheese and ice cream, the 14th annual "Slice of Ag" day gave students a close-up lesson in how everything they eat starts from a farm.
"Our goal is to let the students learn about agriculture and how important it is to our county, our state, to the world in fact, because people eat," said Bill Wood, director of the Douglas County Extension Service.
"You don't just go in a grocery store and the food just appears, like it was made in a factory," he said. "Somebody somewhere had to either grow it or raise it or start the process."
The lessons took place in the Livestock Arena of the Douglas County Fairgrounds, where the dirt floor and the unmistakable barnyard aroma may have been new experiences for kids growing up in the city.
The students moved in groups between eight displays, each dealing with different aspects of agriculture. They included displays about dairy production, beef and pork, vegetable growing and farm machinery. There were also displays about soil and water conservation, as well as food safety.
Wood said it's understandable how kids growing up in urban communities might have little personal connection to farming and agriculture. But in recent years, he has seen a growing disconnect even among kids from rural areas.
"I've had county agents in rural counties tell me that some of their kids don't understand the process," he said. "Even though they live in a rural area and there are farms all around them, if they really haven't been out to a farm or had somebody share with them the story of the farmer, they don't get it either."
According to the most recent Census of Agriculture, only about 31,000 people in Kansas reported farming as their primary occupation in 2007, a decline of nearly 10,000 from five years earlier.
Over that same period, though, each farmer has become more productive, with the total market value of agricultural products sold growing from $8.8 billion to $14.4 billion.
Still, Wood says it's getting harder for most people today to have a personal or family connection to life on a farm.
"Three generations ago, in the early 1900s, everybody was either on a farm or had a grandparent on a farm," Wood said. "And I remember both of my grandparents were farmers, and I loved going out to the farm. But today, there's probably very few people that have a parent or a grandparent on the farm, so they don't get to visit it and they don't quite understand where the food comes from."
Copyright 2018 The Lawrence Journal-World. All rights reserved. This material may not be published, broadcast, rewritten or redistributed. We strive to uphold our values for every story published.