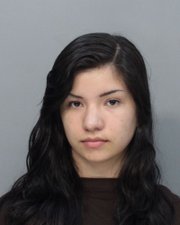 More coverage: Harold Sasko homicide
The defense attorney for the 19-year-old woman accused of killing a 52-year-old Lawrence man said that she waived extradition in a Florida court today and will be returned to Kansas "today or tomorrow."
Sarah B. Gonzales McLinn, charged with first-degree murder here in the death of Harold M. Sasko, was handed over to Florida state authorities after spending much of the week in federal custody. Her privately hired attorney, Carl Cornwell, said Douglas County District Attorney Charles Branson informed him that McLinn waived extradition in a state court today.
In McLinn's court appearance today, according to CBS Miami, when asked if she wanted to waive extradition, McLinn asked the judge, "Does that mean I'll go back to Kansas?"
When the judge replied yes, McLinn said: "Then, yeah, I'll waive extradition."
Cornwell expects McLinn to be brought back to Kansas either Thursday or Friday and said that he has yet to speak with her.
The office of District Attorney Charles Branson confirmed in a news release that McLinn waived extradition and that she will be brought back to the state and booked into Douglas County Jail.
Branson's office said it would not release additional information until McLinn has a first appearance before the Douglas County Pro Tem Judge.
McLinn had been in Florida state custody since Wednesday, when she was released from federal custody on a drug charge related to her arrest at Everglades National Park on Saturday.
On Monday, Branson charged McLinn with first-degree murder in the death of Sasko, the owner of three CiCi's Pizza restaurants between Topeka and Lawrence with whom McLinn lived since 2012 in a home in the 2900 block of West 26th Street. McLinn is accused of gaining control over Sasko and killing him with an "edged instrument" on Jan. 14, which was the last time anyone had seen or heard from either Sasko or McLinn.
This week, an Everglades National Park spokeswoman said McLinn was found sleeping in a 2008 Nissan Altima that belonged to Sasko and had been missing at the time of McLinn's disappearance. A routine check of the vehicle's plates led a park ranger to discover that it was the missing vehicle from Lawrence. McLinn was discovered sleeping in the car and arrested after Lawrence police identified her as the sole suspect in Sasko's death.
According to a Miami Herald report citing unnamed law enforcement sources, rangers also found two firearms, two knives, an ax and a small amount of hashish in the car. The Herald reported that one of the knives is believed to be the weapon used to kill Sasko. At a press conference on Monday, Lawrence Police Chief Tarik Khatib told reporters that evidence suggested that McLinn "somehow subdued" Sasko before killing him and that police now think she was the only person involved in the killing.
McLinn once worked for Sasko in Topeka before moving into his home in Lawrence, friends and family members have told the Journal-World. Kimberly Qualls, a close friend of Sasko's, told the Journal-World earlier this week that Sasko allowed McLinn to move in so she could have a stable environment, save money and prepare for college.
Harold Sasko
• Age 52
• Found dead Jan. 17 in his house in the 2900 block of W. 26th Street.
• Owned three Cici's Pizza franchises — one in Lawrence, two in Topeka.
• Resided with Sarah B. Gonzales McLinn (charged with murder in his death) in the house he owned.
• Lived in Topeka and Lenexa before moving to Lawrence.
• Divorced, with a teenage daughter who lives in Texas.
• Originally from Florida.
Sarah B. Gonzales McLinn
• Age 19
• Grew up in Topeka but lived with Harold Sasko in Lawrence since 2012.
• Graduated from Topeka High in 2012 and also previously attended Shawnee Heights High.
• Worked for Sasko at CiCi's Pizza in Topeka but at the time of her disappearance was working at Bed Bath & Beyond in Lawrence.
Copyright 2018 The Lawrence Journal-World. All rights reserved. This material may not be published, broadcast, rewritten or redistributed. We strive to uphold our values for every story published.