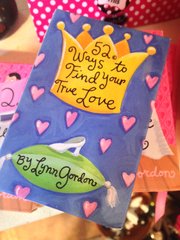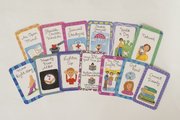 If you're still on the hunt to secure a date before Valentine's Day, this match-making deck of cards offers you 52 ways to find your true love. Designed so that you can carry these ideas in your purse or back pocket, employ entertaining tactics to start the romantic journey of your dreams. Let this love-searching aide ease your anxiety and prompt you to approach some people you don't even think to talk to.
One side of the card offers the tip and illustration, and the other side explains the method for its madness. "Network" is no longer just advice for job-hunting. If you flip that card over, you'll see that finding someone you like is as simple as reaching out to friends, co-workers and relatives and telling them what you are looking for. "Connect Deeply" refers to the opportunities to share a passion you may have with someone else by meeting them at your weekly cooking class or church. Avoid engaging in your favorite activity solo.
You've got 52 tips to get through before you can call it quits.
Where to get it: Bloom Bath and Body, 704 Massachusetts St.
What you'll pay: $6.95 (but can you really put a price on love?)
About the store: Bath, body and cosmetic products have been available at this Mass. Street location since 1994, along with decorative signs, candles and seasonal items like hats, scarves and gloves. It's the place to visit when you want to be pampered with a wide variety of lotion products, bath bombs and so many scents you're bound to find the one that you're not even looking for. Then look for the robe, nightie and slippers you'll need for the at-home spa day provided by this local shop. Don't miss "wedding land"; an entire section dedicated to bridezillas everywhere.
While you're there: Look for their new line of Valentine's Day flasks with phrases like "live, love, drink" or "drink until he is cute" across the front. Just in case the cards don't give you enough confidence.
Copyright 2018 The Lawrence Journal-World. All rights reserved. This material may not be published, broadcast, rewritten or redistributed. We strive to uphold our values for every story published.