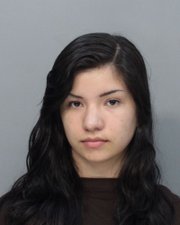 More coverage: Harold Sasko homicide
Florida Everglades park rangers who located Sarah B. Gonzales McLinn on Saturday night in Harold Sasko's car found guns, knives and drugs in the vehicle, according to a report by the Miami Herald.
One of the knives is believed to be the weapon used in the 52-year-old's slaying, according to the Herald:
"The rangers found a small amount of hashish, two firearms, two knives and an ax in the vehicle, according to a law enforcement source familiar with the case. One of the knives, described by Lawrence police as an 'edged instrument,' is believed to be the murder weapon, the source said."
McLinn, 19, is expected to waive an extradition hearing in state court in Miami today so that she may "return to Kansas as soon as possible," according to Assistant U.S. Attorney Tom Watts-Fitzgerald.
The office of Douglas County District Attorney Charles Branson said on Wednesday that McLinn was being processed into state custody in Florida where she will appear before a state court judge at a time unknown to Branson.
Earlier this week, Branson charged McLinn, 19, with first-degree murder and accused her of killing Sasko on or around Jan. 14 with an "edged instrument" that investigators say they now have in their possession.
Linda Friar, an Everglades National Park spokeswoman, previously told the Journal-World that "weapons were found" in addition to an undisclosed controlled substance when McLinn was found located 10:30 p.m. Saturday at the park. She had been living with Sasko in the 2900 block of West 26th Street since 2012 and once worked for him at one of the three CiCi's Pizza restaurants he owned.
Copyright 2018 The Lawrence Journal-World. All rights reserved. This material may not be published, broadcast, rewritten or redistributed. We strive to uphold our values for every story published.