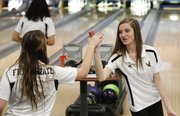 Free State High senior Briggs Fish bowled strike after strike on Tuesday, but he was barely staying ahead of his closest competitors.
Those bowlers firing strikes and spares in the lanes next to him were three of his teammates — Nick Crawford, Matthew Eagle and Tyrease Richards.
"We always try to compete with each other and just always try to stay on top of each other and try to beat each other's scores all of the time," Fish said. "It really makes it competitive within the team, in a good way, and it makes us all shoot better."
That plan worked as the Firebirds beat three other teams and won their home quadrangular at Royal Crest Lanes.
All four of the bowlers finished their second game with scores above 216, leading FSHS to a 370-pin victory over second-place Atchison.
"That's not the first time this season that they've come together and had (216) or more for four scorers, so if we can do that more consistently, that would make us where we need to be," Firebirds coach Burton Gepford said. "It was kind of a slow start. I know some guys had some trouble in the beginning. But the good news is that they figured it out, improved and finished well."
In the first game, only Richards and Crawford finished with scores above 200. However, both struggled in their final games.
"It turned out good the first two games, but I kind of fell into a slump because my ball didn't really turn out for the last game," said Richards, who finished with a 598 series (210-216-172). "I mean, overall, I did really well. I'm kind of proud about it."
Free State made the state tournament last season and the Firebirds believe they're on the right path for a repeat visit.
"We have a lot deeper of a lineup this year than we did last year," said Fish, who had a 604 series (169-244-191), which was the second-highest boys total. "We have guys contributing scores that we weren't expecting them to contribute this year, great scores too. Avery Allen is one of them, he's thrown great scores and Tyrease Richards, he's really come on this season."
Meanwhile, Free State's girls bowling team edged Atchison by 47 pins to win the girls quad. Sophomore Gentry Jordan led the team with a 513 series (167-178-168), while sophomore Maddy Dethloff posted a season-best 496 series (180-148-168).
"I think I hit my mark more than I usually have," said Dethloff, who struggled to pinpoint a specific reason for her success. "It feels good. I feel like a boss."
Sophomore Jamie Souders bowled a 190 in her second game, one of her highest games of the season.
"I focused and hit my mark," said Souders, who had a 466 series (128-190-148). "(Gepford) helped me sometimes when I'd get down, but my teammates cheered me back up."
Although there were some inconsistent scores, there are still high hopes for the girls' season.
"They are coming along," Gepford said. "We're about halfway through the season, so if they can improve the same amount they have since day one, state's looking pretty good."
Dethloff added: "I think we did really well, but a lot of people think we can be better. I know we can be better."
---
Results
Thursday at Royal Crest Lanes
GIRLS
Team scores: Free State 1980, Atchinson 1933, Gardner 1783, DeSoto 1129.
Free State results: 2. Gentry Jordan 167-178-168—513; 3. Maddy Dethloff 180-148-168—496; Bri Martin 174-162-142—478; Jamie Souders 128-190-148—466; Bret Watson 139-131-158—428; Chaise Hegrenes 123-129-125—377.
JV team scores: Free State 1382, Atchinson 1205, DeSoto 812, Gardner 319.
Free State JV results: 1. Sarah Pesce 392; 2. Miranda Williams 353; Meagan Ziegler 300; Ashley Givens 298; Samantha Lenz 295.
BOYS
Team scores: Free State 2468, Atchinson 2098, Gardner 1972, DeSoto 1880.
Free State results: 2. Briggs Fish 169-244-191—604; 3. Matthew Eagle 162-228-210—600; 4. Tyrease Richards 210-216-172—598; 5. Nick Crawford 204-235-149—588; Eric Glogau 168-195-201—564; Avery Allen 181-165-179—525.
JV team scores: Gardner 1789, Free State 1721, Atchinson 1484, DeSoto 1285.
Free State JV results: 4. Cameron Edens 444; 5. John Easum 434; Macray Urish 430; Nichalus Williams 393; Tom Reno 371; Alex Craig 330.
Copyright 2018 The Lawrence Journal-World. All rights reserved. This material may not be published, broadcast, rewritten or redistributed. We strive to uphold our values for every story published.