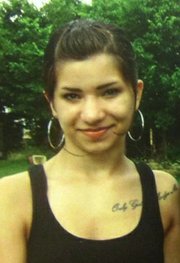 The attorney of Sarah B. Gonzales McLinn, the 19-year-old woman accused of killing Harold Sasko, 52, earlier this month, expects federal drug charges to be dropped against McLinn and has advised her to waive an extradition hearing in Florida to hasten her return to Douglas County.
Carl Cornwell, of Olathe, McLinn's attorney, said he passed along his counsel to an attorney defending McLinn in Florida, where she is being held after being arrested late Saturday at Everglades National Park. McLinn is set to appear in federal court in Miami Wednesday morning. She is then expected to be turned over to Florida state authorities, according to Douglas County District Attorney Charles Branson.
On Tuesday, Branson said that McLinn was expected to taken into custody by Miami-Dade County authorities on Branson's office's warrant for her arrest on charges of first-degree murder. Cornwell said he recommended that McLinn waive the right to an extradition hearing, which otherwise could have kept her in custody in Florida for months.
"It's eventually going to happen anyway," Cornwell said of proceedings in Douglas County District Court.
Cornwell said he had no idea as to the details of McLinn's relationship with Sasko, who owned three CiCi's Pizza restaurant franchises in Topeka and Lawrence and with whom McLinn lived in the 2900 block of West 26th Street since 2012. McLinn once worked for Sasko in Topeka but had reportedly been working at Bed Bath & Beyond in Lawrence at the time of Sasko's death. Cornwell said he had not yet spoken with McLinn and said she had so far had no contact with family.
"They're pretty upset," Cornwell said of McLinn's family. "They're pretty sad right now — not only for their daughter, but very sad for the victim."
McLinn had been in a federal detention center in Homestead, Fla., after an Everglades National Park ranger found her Saturday in Sasko's 2008 Nissan Altima, which had also been missing at the time of McLinn's disappearance and Sasko's death. On Tuesday, Assistant U.S. Attorney Tom Watts-Fitzgerald said McLinn had been handed over to United States Marshals and was being held in a detention center in Miami near the courthouse where she is set to appear Wednesday.
A routine patrol of the parking lot of the Everglades National Park's visitors center after 10:30 p.m. Saturday led to the discovery of Sasko's car with McLinn asleep inside. Both had last been seen on Jan. 14, which is the approximate date on which Branson alleges Sasko was killed with an "edged instrument."
Linda Friar, an Everglades National Park spokeswoman, said a park ranger ran the license plates of the vehicle, which had been entered along with McLinn's disappearance into the National Crime Information Center registry.
McLinn was taken into custody at the park without incident, Friar said, and it was unclear how long she had been camping inside the car.

Branson announced first-degree murder charges against McLinn on Monday. Investigators believe Sasko was "somehow subdued" and unconscious when he was killed. Lawrence Police Chief Tarik Khatib said police have the weapon but will not disclose what it was.
On Tuesday, Friar said that she believed weapons were found with McLinn inside Sasko's car on Saturday, but she would not elaborate on the amount or types.
Copyright 2018 The Lawrence Journal-World. All rights reserved. This material may not be published, broadcast, rewritten or redistributed. We strive to uphold our values for every story published.