Cowboy Indian Bear's Katlyn Conroy has been an active artist in her native town of Lawrence for 10 years, developing and embracing the different sides of musician within her. Her resume includes playing leading or supporting vocalist in Another Holiday, Katlyn Conroy & The Wild & Wooly, One More Cheerful Action and The Ultraviolets (and Cowboy, of course).
Starting very much with a traditional singer-songwriter, keyboards vibe at the age of 15, Conroy says her most recent incarnation of La Guerre is something much bigger than any other solo project she's pursued in the past.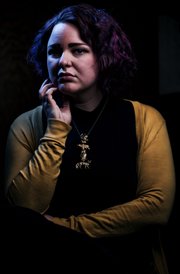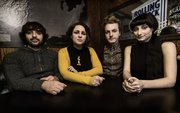 She just hopes people actually spend the time delving into the new dark electronic indie-pop four-piece outfit just starting to take off within the past year. The town's familiarity with her past work might skew their perception of her present endeavors. La Guerre, or "the war" in French, is nothing like Cowboy, she says, or really anything going on in Lawrence right now.
"I feel like I've been a part of the music community for so long that I've faded in the background," Conroy says. "I don't want this to be overlooked. Just totally forget what I've already put out and listen to this."
It's surprising to hear from an artist in one of Lawrence's most prominent bands, but don't get the wrong idea. Conroy is grateful for the opportunities Cowboy has provided her, really just using downtime to pursue ambitious dreams as the band takes a step back from the public eye for a moment.
As far as downtime goes, she has already been going strong as an almost compulsive songwriter since the very beginning, having an abundance of music yet to be released. La Guerre — comprised of Conroy on vocals, Lindsey Kennedy on keyboard and vocals, Adam Brumback on drums and Esteban Gomez on guitar — dropped latest ambient EP "Violent" in August of last year a quick three months after releasing "The Three" EP. And two more full-length albums have been in motion since last fall.
"This year is my chance to take everything I've worked so hard on and really show people what they've been missing," she says.
Traveling to Europe to tour as a musician has been something she's wanted to do for as long as she can remember, but was hesitant because it always seemed out of reach. "Violent" was far more popular with press overseas, Conroy says, and after speaking with European labels that have asked her to perform shows if she were ever in the area, she's decided to be in the area and will be going to London, Ireland, Wales and Scotland.
"I just need to go over," she says. "I just need to do it. I'm 25 now and I've never done anything this big by myself."
Seventeen shows (booking still in the works), three weeks in July, performing with a band she plans to form when she gets there. Oh, and she hasn't been to Europe since a family trip to Ireland, England and Wales at the age of 15.
"It's just such a big deal for me just as my own person to go and do this and challenge myself," Conroy says. "And I feel like I'm at that quarter-life crisis where I'm like, 'I've got to do something that means something.'"
Along with a couple of upcoming minor art fundraisers, Conroy is launching an Indiegogo campaign next week to raise $5,000 to pay for the flight, food, merchandise, travel and gas expenses.
"Somehow I thought Europe wouldn't be that expensive, but yeah, it's really expensive," she says laughing.
In the meantime, pushing La Guerre's music out there is her priority. The band name was inspired from a 10-minute-long French song performed by her high school a capella choir where they reenacted a war with vocals. Appropriately enough, her dark, emotional song lyrics, she adds, broach the subject of inner battles and self-criticism.
Taking cues from one of her influences, St. Vincent's Annie Clark, Conroy juxtaposes deep melodramatic subject matter with happy, dance-provoking instrumentals. Her biggest lyric influence is Conor Oberst (she's been to 17 Bright Eyes concerts), thinking of herself first and foremost as a singer.
With Cowboy Indian Bear not going to South By Southwest this year, it will be the first time the full band of La Guerre (she performed songs under the name as a soloist last year) will perform in the Austin festival.
On Tuesday, they kick off the year, opening for Frankie Rose at Record Bar in Kansas City and three days later they perform at Love Garden (822 Massachusetts St.) for Final Fridays.
Copyright 2018 The Lawrence Journal-World. All rights reserved. This material may not be published, broadcast, rewritten or redistributed. We strive to uphold our values for every story published.