The halls and classrooms of Wakarusa Valley School no longer echo with the chatter and bustle of students each day. The old grade school on the western fringe of the Lawrence school district closed in 2011, and most of its students were sent to other buildings on the west side.
But in recent days there has been a burst of new activity in the school's kitchen where a local chef is giving after-school training to cafeteria workers from other buildings in the district about the finer arts of food preparation and kitchen management.
Call it professional development for the district's food service workers.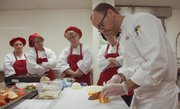 "It's to teach basic skills to these wonderful ladies who do so much good work in our schools each day, that maybe they've never had the opportunity to learn before," said Rick Martin, who is now working on contract with the Lawrence district, using the Wakarusa Valley facility as the district "test kitchen."
The first lessons last week focused on professional knife skills. Martin puts a high priority on having good, sharp knives in the kitchen, and knowing how to use them.
"It's kind of like a mechanic working on a car," he said. "If you don't have a tool chest full of the right tools, you're really not going to be happy with the job you're doing because you're going to be forcing something else to do the job. A sharp knife prepares you to do every job every time."
The lesson started off with a lecture and PowerPoint presentation, explaining the different parts of a chef knife, and what separates a good one from a cheap one. He also instructed them in the different kinds of cuts – large, medium and small cubes; julienne; brunoise; and oblique.
He also stressed the importance of mise en place, the practice of having everything you need in place before starting, including one's uniform, ingredients in usable form, the recipe, a clean prep station, and all the equipment that will be required.
From there, he led the cooks through their own practice session, demonstrating different ways of cutting fruits, vegetables and fresh herbs to make them look more appealing, and having them practice on their own using a basic recipe for a tantalizing Roasted Red Pepper Dip.
Martin, a former culinary arts teacher in the Eudora school district, has worked in various restaurants in Lawrence, and soon plans to open one of his own. He also has taught cooking classes at Just Food, a local food pantry, teaching low-income families how to cook healthy meals on their own.
Lindsey Morgan, a registered dietician and supervisor of the district's food services program, said the idea for starting a development program for the cafeteria staff began when the district learned Martin was available.
"Honestly, we found out Rick was no longer at Eudora, and we'd been looking at how we wanted to do some professional development to get our staff engaged," she said. "We found he was available, and so we started looking at what classes we wanted to do, starting with the basics and giving them a good building block."
Eventually, Martin and Morgan said, the test kitchen could be used to develop new recipes for school breakfasts and lunches. But for now, they said, they'll focus on building and honing kitchen skills for the food service staff.
Sharon Wright, a food service worker at South Middle School, said she's enjoying the lessons, regardless of whether it translates directly into what she does on the job.
"You know, I think I'll use it at home," she said.
Education news
Have a story idea?
Contact Journal-World education reporter Elliot Hughes:
ehughes@ljworld.com
Copyright 2018 The Lawrence Journal-World. All rights reserved. This material may not be published, broadcast, rewritten or redistributed. We strive to uphold our values for every story published.