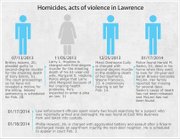 There have been four homicides in the last seven months in Lawrence, for those of you who are counting.
Most of you, by the way, aren't counting.
That became real obvious this week as I roamed the city trying to gauge how residents are reacting to our little bubble of tranquility being burst. What's that? You hadn't heard about our little bubble of tranquility either.
Well, until this most recent string of homicides, it had been about four years since the city's last homicide. That all changed in July when a 20-year old Topeka woman shot a 51-year old Lawrence man in the head at his home. The woman pleaded guilty to second-degree murder just a few hours before the city's most recent homicide, a mysterious attack earlier this month that left area businessman Harold M. Sasko dead in his home. In between, there have been a domestic dispute that resulted in a Christmas Day stabbing death and a death where a husband has been charged with shooting his chronically ill wife.
Four homicides in seven months. In the majority of Kansas towns — most total a few hundred or a few thousand people — even one murder sets the town's coffee houses, barber shops and taverns ablaze with comments and gossip. But Lawrence, apparently, isn't most Kansas towns anymore.
In my business, I often tell people Lawrence is still a pretty small town. It is my way of reminding them that word still spreads quickly in Lawrence, whether they want it to or not. But this week I was reminded that Lawrence isn't as small as it used to be.
I spent the better part of two days going from one popular hangout to the next asking people what they thought about these homicides. And I didn't get the typical small-town reaction. No shock, no disbelief, no real fear to speak of.
In the city, you see, murder is sad, but it generally is not scintillating.
"This just kind of sounds like life," Valerie Kutchko, a KU student who grew up in Kansas City, said when told the details of Lawrence's latest bout with violent crime.
•••
Don't get me wrong. There are still things that rattle Lawrence residents. It is just that an average murder — and I really do wince at using that phrase — doesn't appear to be among them anymore.
Instead, the crimes that stand out to many of the people I talk to are things like the drive-by shootings in other communities, kids bringing guns to school, shootouts in the middle of an intersection in broad daylight. In other words, things on the 10 p.m. Kansas City news.
"When you watch the news over there, it is just homicide after homicide after homicide," said Pat Baker, who was eating breakfast at a Lawrence Hy-Vee grocery store. "We're not like that."
Or as Kerry Wehner , who serves both cocktails and wisdom at North Lawrence's Johnny's Tavern, said: "We don't have BTK here," referring to the serial killer who once terrorized Wichita.
No, the general consensus is that Lawrence is still far safer than your average city. Of course, several people I talked with were surprised to hear that there had been four homicides in seven months. I talked with some people who have been 20-year residents of Lawrence, and they were unaware of the recent string of violence. Most had heard bits and pieces of the crimes, but none of it had caused them any anxiety.
"I'm too busy to be nervous," said Rogelio Tristan, a senior in computer science at KU.
If anything, there may be an overconfidence exhibited by some.
"Lawrence is one of the only places where I feel like I can walk anywhere in the middle of the night and not worry about getting robbed or getting jumped," said Joshua Treff, a seven-year resident of Lawrence who previously lived in Toronto.
A regular reading of the police blotter would suggest that may not be the best of attitudes.
Others didn't exactly say they had their midnight waking shoes on, but they gave Lawrence very high marks when it comes to a lack of crime and violence.
"I think Lawrence is safer than most other cities its size," said Rick Ostrander, a substance-abuse counselor who was eating lunch at a westside Dillons. "I think there are a lot of good people attracted to the university."
Yes, we may not be a small town anymore, but we're still a quintessential college town. Except, it was pointed out that college towns aren't always the pictures of peace — everything from Purdue University a few days ago to Virginia Tech a few years ago.
"I don't think there is anything special about Lawrence that is going to keep us from experiencing what everybody else is experiencing," said John Novotny Sr. "It is nationwide at this point."

•••
I'll admit, I wasn't really surprised by the reaction I got from people this week. But it did make me a little bit sad. It is four human beings after all, and outrage wasn't anywhere to be found.
But please, don't mistake me for being judgmental about how people react. It is important to note that everyone recognized the killings as tragedies. It is not that the taking of a life in Lawrence is meaningless. But it was still unsettling to me every time someone said that what is more remarkable than four homicides in seven months is that we went four years without one. They're right, of course. The data show the four-year stretch is the anomaly.
But still, I would have felt better if more of us would have taken the time to count. We remember what we count.
At least, that is how I was feeling at one point in this exercise. Then I ended up at a place that has produced various levels of clarity for me over the years: a bar stool. I'm sitting next to a guy at Johnny's, and he doesn't want to give me his name. I don't think he likes reporters much. But he does give me an insight.
"To most people, it just happened to one person, and that person wasn't them," he says. "That's not the right way to think about it, but a lot do."
A sip to ponder that. There is no doubt in my mind the reaction would have been different if one of these killings was more random — someone walking down the street murdered by a complete stranger. This last case is very much still a mystery, but with the others there seems to be a connection between the victim and the suspect. And let's face it, none of us want to believe we have someone in our lives who would shoot us in the head or stab us in the chest.
"You can't dwell on it," my bar stool partner continues. "Wrong place, wrong time. You never know when it is going to happen."
All right. I don't feel any better, but you've convinced me. We've got our reasons for not counting.
— Each Sunday, Lawhorn's Lawrence focuses on the people, places or past of Lawrence and the surrounding area. If you have a story idea, send it to Chad at clawhorn@ljworld.com.
Copyright 2018 The Lawrence Journal-World. All rights reserved. This material may not be published, broadcast, rewritten or redistributed. We strive to uphold our values for every story published.