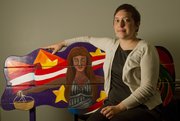 Cassie Peters was more proactive than most.
Because she had a family history of breast cancer, she routinely gave herself breast exams. She went to the doctor once after discovering a mass but, because Peters was only 25, her physician didn't think anything of it. The next year, too old to stay on her parents' health plan, she decided to go without insurance — she thought she was healthy and, besides that, couldn't afford it.
As the months wore on, though, she continued to worry about that lump.
In late 2012, she went to the local safety-net, Health Care Access, where, after an examination, she was referred to Lawrence Memorial Hospital. A biopsy there discovered she had breast cancer.
Even though Peters had lost a grandmother and aunt to the disease, she was still shocked.
"I didn't think I would get it," said Peters, a Wichita native who came to Lawrence to study expanded media at Kansas University and now works as a receptionist in the Douglas County District Attorney's office. "I just thought, 'You don't even get mammograms until you're 40 or 50.'"
Arctic Blast fundraiser
The Lawrence Memorial Hospital Endowment Association will host its second annual Arctic Blast fundraiser to benefit the Catch a Break program on Saturday, Feb. 1, from 6 p.m. to 10 p.m. at Abe & Jake's Landing, 8 E. Sixth St. Guests are encouraged to wear ski lodge gear and "chill out for a cool cause." Tickets are $80 per person. Entertainment will include five tasting stations, music, a strong woman and fire jugglers.
Peters' care was covered under the Early Detection Works program, which provides cancer screenings to uninsured women in Kansas and, if they are diagnosed, enrolls them in Medicaid. Even with her health care paid for, though, Peters had to take off work and buy wigs to wear while she underwent chemotherapy.
That's when a social worker at Lawrence Memorial Hospital told her about Catch a Break, an organization founded by a local cancer survivor that gives financial assistance to people fighting the disease. Catch a Break paid for a month's worth of Peters' utility bills, groceries and, because she got sick around the holidays, movie tickets. That organization is having a fundraiser next weekend, which Peters plans to attend. "It's a great way for people to know they're actually impacting someone locally," she said of donating to Catch a Break.
A little more than a year since her diagnosis, Peters' outlook has improved. She did six months of chemotherapy and a year of a targeted therapy aimed at the cancer-causing gene she has, known as HER2. She had her right breast removed and continues to undergo reconstruction. She's on a five-year medication regimen to prevent recurrence of the cancer; in the meantime, doctors will aggressively monitor her for the disease.
Lawrence Young Survival Coalition
Cassie Peters hosts a support group for breast cancer survivors under the age of 40 on the first Monday of every month (except February) from 6:30 p.m. to 8:30 p.m. at Signs of Life, 722 Massachusetts St.
Peters, 27, now has a 95 percent chance of surviving the next five years. She lives in Lawrence with her cat and boyfriend.
Because of all the support she received during her cancer scare, Peters has been trying to give back to women in similar situations. She has been volunteering with the Young Survival Coalition, and hosts a monthly support group for young cancer survivors. She wants to raise awareness, in the hopes that others might catch the disease early. Her vigilance in self-exams just may have saved her life.
"I believe that people are their own best health advocates," Peters said. "Health care professionals play a role, but I really feel like it's up to each individual to care and to take the time to really address their bodies and health concerns and not leave it all up to one yearly visit."
Copyright 2018 The Lawrence Journal-World. All rights reserved. This material may not be published, broadcast, rewritten or redistributed. We strive to uphold our values for every story published.