There's nothing worse than cranking up the heat every winter just to layer up to walk across the cold kitchen floor of your home.
If you live in a drafty house, it's very possible the wind is traveling through nooks and crannies of windows that could use some doctoring. Not only could it save on heating expenses by increasing the energy efficiency in your home, but it will also substantially improve indoor comfort. Here are some options:
Replacing windows
When it comes down to it, the most effective way to insulate your home is to replace old windows. Single-pane glass already does a poor job of keeping cold out, but older, weather-worn windows may not have much life left in them.
The new window will cost you a good chunk of money, and having it installed will cost you more money, said Gary Ziegler, owner of Ziegler Glass, 2400 Ponderosa Drive.
Ziegler said to think of it like investing in a Prius. It may cost you $35,000 to purchase the car, but it will save you 40 miles to the gallon. Your much cheaper old Ford Taurus may only get you 18 miles, he said. It's may take a while to pay off the Prius, but it's easier on the wallet in the end.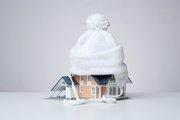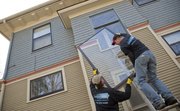 "If you own your home and plan on staying in it for a long time, make that investment," he said. "You won't be disappointed in the long haul."
According to the U.S. Department of Energy, upgrading to an ENERGY STAR window can save you 7 to 15 percent, or $71 to $501, annually on energy household bills, depending on your geographic location and type of window being replaced.
A vinyl window is the least-expensive window replacement on the market, Ziegler said, costing as low as $300. A better-crafted, more aesthetically pleasing wood window, runs about $1,000.
Overall it's a good rule of thumb to inspect all possible sources of air infiltration, Ziegler said. It's not going to do any good to get new windows if air is traveling through doors or other small areas of the home, which do add up.
Storm windows
If you own a historic home in Lawrence, replacing the windows, and therefore changing the look of the house, is not an option. But you're not completely out of luck.
While it is an older practice, Ziegler said, installing a storm window on top of an old single-pane window can still make a huge difference.
"It creates an air space between your window and the storm window, which creates a negative or dead air space," he said. " An air space creates a buffer and helps with drafting."
Because newer homes have far better insulation in the walls, installing a storm window is not doing as much for you as you might hope. With improvements in technology, it's possible to get windows with insulated glass with argon (to boost energy efficiency) that fit tighter to the frame. A storm window just doesn't compare.
"That's where your air infiltration and your heat loss comes from," Ziegler said."You just have windows that are better in this day and age. When you put a [new] window in that opening then you actually bring that insulation value up to closer to what the walls are."
Keep in mind, a storm window is a third of the price of a vinyl window.
DIY tips and tricks
If you're not keen on tearing out your old windows and getting new ones, there are some do-it-yourself weatherstripping practices that can make a big difference. Adding heavy curtains in addition to these tricks also helps.
Linda Cottin, owner of Cottin's Hardware and Fix-It Chick columnist, ranked some options (all available in the store) in order of effectiveness:
Window Installation Kits (interior), $11.99 for five windows
Put double-sided tape around the frame and place the shrink wrap around the window. Use a hair dryer to seal it off by shrinking it even tighter. You can't open or shut the window once put in place, and you wouldn't have access to mini blinds if you have them, which means you couldn't open or close them to let light into the house.
Window Installation Kits (exterior), $12.99 for five windows
Similar to the previous option, you put double-sided tape, this time on the outside window frame, and cover with clear plastic. You won't shrink wrap this, so pull as tight as you can. The disadvantage here is that it's difficult to cover the second-story windows of a house, Cottin said, requiring a ladder.
Caulk cord, $6.49
Press and mold brown or grey putty (comes in a roll) into the cracks. It can be removed easily after the winter season, leaving no residue. You can leave it up year-round to keep heat out during the summer, as well.
Bronze Seal, $14.99
Tack to the bottom insides of your window and when you shut it, the seal will flatten where it needs to and stay up where it needs to stay up to stop the air from coming in.
Foam weather strip, $2.29 to $3.99
Coming in various widths and thicknesses, depending on sizes of crevices on window itself, this self-adhesive foam strip should be applied right up against any crack in your window, near the window sill. It's not as aesthetically pleasing when placed outside.
Copyright 2018 The Lawrence Journal-World. All rights reserved. This material may not be published, broadcast, rewritten or redistributed. We strive to uphold our values for every story published.