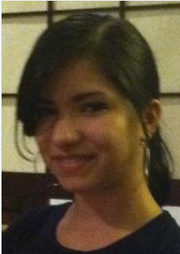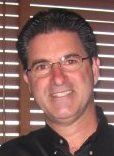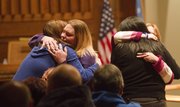 Lawrence police continue to seek information about the whereabouts of missing 19-year-old Sarah McLinn and more information about the circumstances surrounding the death of 52-year-old Harold Sasko. Meanwhile, a Kansas City-area funeral director confirmed handling services for Sasko's family.
Frontier Forensics completed an autopsy on Sasko, but an employee said on Thursday that the case was suppressed, meaning it first had to go through the court system before results could be made available to the public.
Also on Thursday, Thad Rogers, owner of Kansas City Funeral Services Inc., confirmed that the company received Sasko's body this week and handled services for his family. Rogers said he could not go into further detail, citing the family's privacy.
Kimberly Qualls, who briefly dated Sasko and had maintained a friendship with him, said he had family spread out across the country and was originally from Florida.
Qualls added that there were enough close friends in the Lawrence and Topeka area, where Sasko owned three CiCi's Pizza restaurants, that a local memorial service may be in the works.
Police discovered Sasko's body, dead of apparent traumatic injuries, late on Jan. 17 at his home in the 2900 block of West 26th Street. Sgt. Trent McKinley, a Lawrence Police Department spokesman, said police visited the home because McLinn's family had reported her missing and that is where she had been living with Sasko.
It was determined that Sasko was dead around 11:30 p.m., but police had to then request a warrant from the district attorney's office to perform a search of the home. The investigation continued into the next day and police announced the homicide investigation and McLinn's disappearance after 4:30 p.m.
McKinley said that the Kansas Bureau of Investigation has been assisting Lawrence police in the investigation. Lawrence police have also reached out to an undisclosed number of law enforcement agencies and "asked for a wide variety of assistance as we pursue leads outside the city limits of Lawrence," McKinley said.
Mark Malick, special agent in charge at the KBI's Topeka headquarters, said he was called around 6:45 a.m. Saturday for a request for crime scene assistance. Malick said the KBI sent crime scene investigators to the home early Saturday morning.
"And the KBI continued to provide limited investigative assistance upon their request," said Malick, who added that he could not speak in detail about what the assistance involved as the case remained under investigation as of Thursday.
McKinley said information on McLinn's disappearance and the missing dark gray or blue 2008 Nissan Altima (with a Kansas "In God We Trust" AK149 license plate) was also placed on the National Crime Information Center, a digital index of information available to federal, state and local law enforcement across the country.
"We have not confined the search to any one area and will pursue leads wherever the information takes us," McKinley said.
On Wednesday evening, family and friends of McLinn gathered at St. David's Episcopal Church in Topeka for a prayer and reflection service that spanned two hours and featured multiple prayers for McLinn's safe return.
"I don't know how they should be," said the church's rector, Don Davidson, when asked how McLinn's family was coping. Davidson said Ashley McLinn and their mother, Michelle Gonzales, had been a part of the church for several years.
"They're in a shock period," Davidson said. "Worry, fear, just praying and hoping that Sarah will come home."
Readings of scripture and prepared prayers from both McLinn's family and Davidson held out hope Wednesday evening for a return home by Sarah McLinn.
"Somehow Sarah will hear the prayer too and know the people in her hometown care about her and love her and will welcome her home" Davidson told the audience at the beginning of the service.
Ashley previously told the Journal-World that she wanted her sister to call her at 785-806-8819. She described her sister as 5-foot-7 with brown eyes and brown hair that she dyes black.
Lawrence police are also asking anyone with information about Sasko's death or the whereabouts of McLinn and/or the missing 2008 Nissan Altima to call the department at 832-7509 or Douglas County CrimeStoppers at 843-TIPS(8477).
McKinley said the last time anyone reported seeing or hearing from either McLinn or Sasko was on Jan. 14. "It appeared things were somewhat normal most of the day," McKinley said.
That included making plans with Ashley McLinn to come visit her in Topeka. Things changed on Jan. 15, police and family said.
Copyright 2018 The Lawrence Journal-World. All rights reserved. This material may not be published, broadcast, rewritten or redistributed. We strive to uphold our values for every story published.