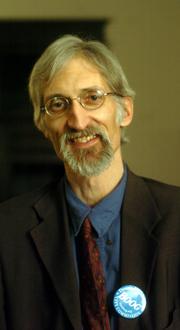 A former Lawrence mayor is making a run to represent the city at the Kansas Statehouse.
Dennis "Boog" Highberger announced Thursday that he intends to run for the 46th District House seat, which will be up for grabs because Rep. Paul Davis is vacating it to run for governor. Highberger will run as a Democrat.
"I just really would love to have the opportunity to serve again," Highberger said.
Highberger, 54, was elected to two terms on the Lawrence City Commission from 2003 to 2009. He served a one-year term as mayor during that stretch.
"I really want to work on policy issues at the state level," Highberger said. "I want to talk about our tax polices. I want to continue to have a good social safety net. I think it is outrageous that the governor didn't allow for Medicaid expansion. And education is going to be an absolute priority."
Highberger is a partner in a downtown Lawrence law practice. Previously, he served for about 20 years as an attorney with the Kansas Department of Health and Environment.
The 46th House District covers large parts of Lawrence east of Iowa Street, south of the Kansas Turnpike and generally north of 19th Street. Highberger has lived in Lawrence since 1977 and has lived in the district for all but one of those years, he said.
Highberger's entry into the race will cause a primary election on the Democratic side of the ticket in August. Abbie Hodgson, who teaches in the communication studies department at Kansas University and is a former staff member of Gov. Kathleen Sebelius, also has filed for the seat on the Democratic ticket.
Copyright 2018 The Lawrence Journal-World. All rights reserved. This material may not be published, broadcast, rewritten or redistributed. We strive to uphold our values for every story published.