Valentine's Day is on its way, so it's time to start planning your outfit! Considering I don't wear a lot of red or pink, or color for that matter, I love using this day as an excuse to be bold and bright with my style.
Your Valentine's Day outfit solely depends on your plans. A night in should definitely call for a much more casual and cozy look than a date at a super fancy restaurant.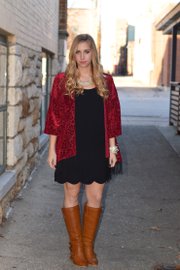 So before you go grab all the red and pink pieces you can find, make some solid plans. I still don't know what my other half has up his sleeve, but I would imagine it would be something that requires going out in public, which means I need to find my outfit ASAP! Valentine's Day is typically freezing around these parts, so showing off your outfit can be difficult when you have to bundle up.
Hopefully Mother Nature will give us a break this year and offer some bearable temperatures and mild winds.
The casual but classy date
This outfit is brought to you by Fortuity, 809 Massachusetts St. They have a bright array of colors to choose from, including the Valentine's Day must-haves: pink and red!
They put together a casual-style Valentine's Day look that would be great for a date at a bar-style restaurant or even out with a group of girlfriends. I love that the outfit is more edgy and less cutesy, if that makes sense. I love how that fringe cardigan is a dark-red shade mixed with the dark shade of the black dress.
In most cases, I'm not one to mix dark colors with light colors. Sticking to similar shades creates more a streamlined look. Also, fringe is still a huge trend right now so I love that they incorporated something with a bohemian flair. The scalloped hem on the dress adds a feminine detail that's unique.
I'm also a fan of mixing accessories that don't necessarily match. This creates an effortless eclectic look. Depending on the weather, you could throw on a pair of tights or leggings to warm up the look. Don't limit yourselves to just boots; a pair of black heels or ankle boots are stylish choices that would look great with this outfit as well.
Another tip for choosing your casual Valentine's Day outfit is to make sure it's comfortable. Even if you find the cutest pair of skinny jeans that "almost" fit you, don't give in to the temptation, because you'll regret it. Elizabeth's black dress fits her well, in that it's not too tight and not too oversized so she can move freely and comfortably. The same goes for her fringe cardigan. She's not swimming in it, but it has a natural oversized look to it.
— Emily and Elizabeth Kennedy are twin sisters and fashion bloggers who share a blog called Fashion Column Twins. Emily writes this column. They can be reached at fashioncolumnblog@gmail.com.
Copyright 2017 The Lawrence Journal-World. All rights reserved. This material may not be published, broadcast, rewritten or redistributed. We strive to uphold our values for every story published.