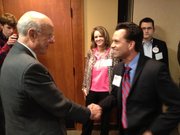 U.S. Sen. Pat Roberts, R-Kan., and his GOP primary opponent Dr. Milton Wolf, on Monday blasted President Barack Obama over the federal health reform often called Obamacare.
But Wolf also blamed Roberts for Obamacare during a Douglas County Republican Party event that focused on health care.
Wolf, a tea party-backed candidate who running for office for the first time, faulted Roberts for backing Health and Human Services Secretary Kathleen Sebelius, a former Kansas governor, during her confirmation in 2009.
"Senator Roberts voted to put Kathleen Sebelius in charge of Obamacare. If you were sitting in the United States Senate, would you put Kathleen Sebelius in charge of Obamacare," Wolf said.
In October, Roberts called on Sebelius to resign, citing "gross incompetence" over the troubled rollout of the Affordable Care Act, also called Obamacare. During his talk, Roberts said he voted against Obamacare three times.
Roberts said if the Republicans can take back the Senate this year there is a chance that the ACA could be repealed because even Democrats "are very, very nervous" about the law.
"If we could unite our party and win the Senate, I believe we could repeal and replace this terrible law," Roberts said.
He said the ACA was the first step to nationalized health care, and that it was just one of many moves by the Obama administration that represented a "march toward socialism."
Wolf said Obamacare "will destroy our country" and needs to be replaced with a free-market, patient-centered system.
Wolf said he agreed Republicans need to win the Senate, but they need to be "conservative Republicans." He warned that Republicans shouldn't work with Democrats. "You cannot make friends with our adversaries," he said.
Copyright 2018 The Lawrence Journal-World. All rights reserved. This material may not be published, broadcast, rewritten or redistributed. We strive to uphold our values for every story published.