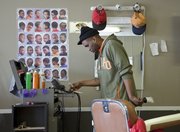 This much seems to be known: Hiram Bayan, one of three barbers at Watson's Barber Shop, appears to have been involved in some sort of foot race in the parking lot outside the barber shop in the Hillcrest Shopping Center.
When his fellow barbers begin to offer further details of the "race" to a visitor — supposedly there is video evidence — they are met with an almost immediate threat of blackmail.
"Oh, so we're telling secrets now?" Bayan says to the room. "We can do that."
I bet they can because in this place, almost anything can happen at anytime. The fellows at Watson's, 925 Iowa St., will cut anybody's hair, but the business has gained a reputation in the community as the city's top black barber shop.
And with that comes a certain image to uphold.
"Those black barber shops you see on the movies and TV, it is not too far off from that," says Martin Watson, who has owned the shop for the past 10 years. "We talk about everybody and everything. It all goes down at the barber shop."
One minute an older customer may be getting tweaked about how his "suspenders are rising" as he tells stories about drag racing, beer and pretty women. The next minute, a college-age customer may get quizzed on the slick new sneakers he's sporting. And at any moment — any moment — barber Tim "Nellie" Nelson can turn the conversation to youth league football and the team that he coaches.
"I coach a youth league football team . . . " Nellie says at the start of a conversation.
"Oh here we go," Martin yells. "Here we go."
But perhaps the biggest twist in conversation at Watson's Barber Shop: You'll find Lawrence black men who actually will tell you what's on their mind. As the trio of barbers will attest, outside these friendly confines, that is not common in Lawrence.
"If you are quiet, you can't get into trouble," says Nellie, a 42-year old native of the city. "That's the approach we take in Lawrence."
•••
When Martin Luther King Jr. Day arrives on Monday, much will have changed in Lawrence since the days when Rev. William Dulin, 71, grew up in rural Douglas County. He remembers how he and his brother — the only two black students on his school's sporting teams — would have to sit on the bus while the rest of the team would go into a restaurant.
"Thank God I didn't grow up in that time," Bayan says. "They would have had to kill me."
From his seat in a barber's chair, Dulin explains to the younger listeners just how different it was not so long ago. Yes, today there are still issues black residents of Lawrence would like to see changed. Three I heard fairly consistently in my few hours at the shop were: More black coaches, more black teachers, more black police officers. When Dulin was asked by a young barber what their list of items were during the Civil Rights Movement, he had a different answer.
"There were a whole lot of things we were trying to get," Dulin says while the clippers buzz. "But the biggest thing was to be treated like a human being."
A few clippers pause — just long enough for the barbers who hold them to shake Dulin's hand.
•••
Lawrence is different. There is a barber shop consensus on that. But the fellows aren't just talking about how Lawrence is different than it used to be. They're mainly talking about how Lawrence is still different than most places today.
Bayan talks the loudest on this point, in part, because he's the newest to Lawrence. He grew up in Kansas City. Bayan says it has taken him awhile to realize that the black community in Lawrence doesn't operate the way it does in Kansas City.
"In the city, we would be tripping if we feel like somebody has done us wrong," Bayan says. "We would be calling FOX 4 (the TV station). We would be having rallies on the street. That doesn't happen here."
If you are quiet, you can't get in trouble.
Nellie has strong opinions too. He thinks the black community in Lawrence isn't united enough, and that there is too much jealousy. A few others in the shop agree, but it is not unanimous. One of the younger customers in the shop says that's not how he sees Lawrence.
Demarcus Rucker, a third year KU political science major from Wichita, says he feels like there are plenty of people throughout the community rooting for his success.
"I just remember coming here and during the first few days thinking: Everyone is so happy here," Rucker says.
And that's a good point. The fellows at the shop are quick to point out that Lawrence is a good place to live. Nellie says it is the "perfect place" to raise kids, Watson is celebrating 10 years of business success and Bayan says it is a community far more relaxed than where he came from.
But to mistake the quietness from the black community as a sign that everything is perfect wouldn't be right either. The opinions really start to flow now. There are opinions that it is still too easy for blacks to be singled out for retaliation if they speak against the status quo. There are opinions about how the public interacts with an ordinary black man in Lawrence compared to a black KU athlete. There are opinions about rich sides and poor sides of town. There are opinions about inter-racial relationships. There are opinions about . . . well, about a lot of things that frankly make a small-town Kansas white reporter a bit uncomfortable to talk about.
And I bet I'm not alone. That's maybe the strongest point I walked away with from my couple of hours at Watson's. Lawrence doesn't talk a lot about race. Maybe it just makes us uncomfortable. Or maybe — you pick the label — we're just too cool, or progressive, or liberal to talk about it.
"We're all just supposed to be Lawrencians," Bayan said. "We're not supposed to be a white community and a black community."
Lawrence may be different that way too, and surely that is good. But as they say, everything — even that well-meaning sentiment — comes with a shade of gray. Our desire for all of us to be one can sometimes make it harder to remember that our one big community has smaller communities within it.
"Sometimes you just have to be proud and say it," Bayan says. "Sometimes you just have to say: I'm a black man."
That and a whole lot more gets said in this barber shop.

Just don't ask about the parking lot race.
— Each Sunday, Lawhorn's Lawrence focuses on the people, places or past of Lawrence and the surrounding area. If you have a story idea, send it to Chad at clawhorn@ljworld.com.
Copyright 2018 The Lawrence Journal-World. All rights reserved. This material may not be published, broadcast, rewritten or redistributed. We strive to uphold our values for every story published.