Photo Gallery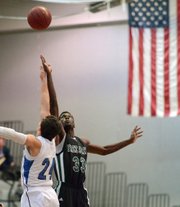 FSHS boys at Olathe Northwest
Box score
FREE STATE (59)
Blake Winslow 4-7 5-6 13, Cole Moreano 7-10 0-0 18, Keith Loneker 1-3 3-3 5, Reshawn Caro 3-6 1-2 8, Khadre Lane 4-8 0-0 8, Weston Hack 1-3 0-0 2, Justin Narcomey 0-2 0-0 0, Tristan Garber 1-1 2-4 5. Totals 21-40 11-15 59.
OLATHE NW (56)
Easton Koch 7-12 4-4 21, Devin Anctil 3-5 2-4 9, Jaymond Kelly 3-5 3-5 9, Morgan Funk 3-4 4-5 10, Jon Selby 1-3 3-5 5, Evan Reid 0-1 0-0 0, Justin Ward 1-1 0-0 2. Totals 18-31 16-23 56.
Free State 22 8 12 10 7 — 59
Olathe NW 11 10 12 19 4 — 56
Three-point goals: Free State, 6-13 (Moreano 4, Caro, Garber); Olathe NW 4-11 (Kock 3, Anctil). Fouled out: Free State, Moreano, Loneker. Turnovers: Free State 11, Olathe NW 13.
-->
-->
Olathe — On a Friday night when two Free State High boys basketball starters couldn't escape the referees' whistles, a pair of Firebirds substitutes delivered the biggest plays of overtime at Olathe Northwest.
FSHS seniors Keith Loneker and Cole Moreano had already fouled out by the time backups Tristan Garber and Justin Narcomey looked every bit the part of starters with the game on the line in the four-minute extra period and helped send Free State to a thrilling 59-56 victory.
The Ravens had rallied from a nine-point fourth-quarter deficit and could have harnessed that momentum in overtime had junior Narcomey not negated two ONW possessions by drawing a pair of charges in the paint in the final two minutes of OT.
Those defensive gems made it possible for senior Garber, who had missed two bonus free throws with Free State leading 57-56 at the 0:41 mark, to redeem himself with two makes with 8.3 seconds to go.
The 5-foot-8 senior, who also hit a three in the final seconds of the first quarter, said he usually steps to the foul line with confidence.
"Those first two (with 41 seconds left) I felt were good, but I wasn't focused. The crowd was crazy. It was just a crazy environment," Garber said. "Then those next two, Cole and everybody on the bench were just telling me to keep my head up. I get down on myself pretty easily, so I was like, 'I'm gonna change. I'm gonna keep my head up and just knock those two down.'
"It was a fun game," he added. "I wanted to be there."
Of course, Garber and Narcomey never would have had their clutch opportunities had senior starter Reshawn Caro not drained a three-pointer with less than four seconds left in the fourth quarter. ONW senior guard Easton Koch, who scored 11 of his game-high 21 points in the fourth quarter and overtime, scored eight straight Ravens points in the final two minutes of the fourth, and his two one-and-one free throws with 36 seconds left in regulation put FSHS in a 52-49 hole.
In need of a three, Free State (6-4) turned first to Moreano, who despite his constant foul trouble had made six of seven shots at that point, including four of five from three-point land.
When Moreano's bomb misfired, junior guard Weston Hack crashed in for the offensive rebound and passed the ball out to senior Blake Winslow, who quickly fed Caro in the left corner for a contested three, which he buried.
"I knew I had a big shot coming my way, because we were down three," Caro said. "Blake was driving, and he was gonna drive and kick — that's usually what he does. I was just confident in knocking it down. It felt good coming out of my hands."
How did the shot feel after it ripped through the net?
"It felt twice as better," Caro said, smiling.
"Reshawn has been a little funky some of the year, but the last two games he's stepped up and hit two huge threes," FSHS coach Chuck Law said.
Caro had to credit Garber for the late free throws, though. Those two points forced ONW to take a three on its final possession of overtime, and a double-clutched try from Devin Anctil rimmed out, allowing Caro to haul in the defensive board.
"They were huge," Caro said of Garber's free throws, "especially with him missing the first two. But we believe in him and we knew he's a good free-throw shooter, and we're glad he kept his head up to knock them down."
Although Moreano (18 points) spent far more time on the bench than on the floor, his 11-point first quarter got Free State out to a 22-11 lead entering the second. Caro said the Firebirds needed that kind of great start.
"That gave us a good cushion when they got in foul trouble," Caro said. "We always work together, no matter who is in foul trouble. We learn the situations in practice and stuff."
When Loneker (five points, two assists) and Moreano had to sit on the bench, other players stepped up. Winslow scored six of his 13 points in the third quarter, then went 3-for-4 at the free-throw line in overtime. His two makes on a one-and-one with 1:17 left gave FSHS a 57-56 lead.
Said Law: "We were fortunate to win, but I'm incredibly proud of our guys, because that was a gut-check. Stepping up, the way those guys did down the stretch, I hope that's a momentum-builder for us down the road."
Copyright 2018 The Lawrence Journal-World. All rights reserved. This material may not be published, broadcast, rewritten or redistributed. We strive to uphold our values for every story published.