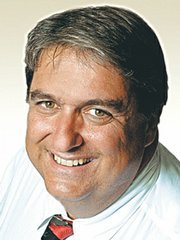 Lawrence Journal-World Sports Editor Tom Keegan has been named the Kansas sportswriter of the year by the National Sportscasters and Sportswriters Association for the second year in a row.
Play-by-play announcer Wyatt Thompson of the Kansas State University Wildcats' radio network also won his second Sportscaster of the Year Award.
The NSSA recognizes one writer and one broadcaster from each state and hands out several national awards annually. Association membership consists of more than 1,100 U.S. sportscasters and sportswriters.
Keegan joins Journal-World sports writer Gary Bedore (2005) as current members of the staff to have won the honor.
Copyright 2018 The Lawrence Journal-World. All rights reserved. This material may not be published, broadcast, rewritten or redistributed. We strive to uphold our values for every story published.