Photo Gallery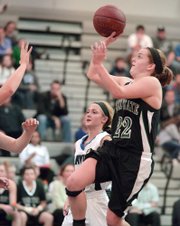 FSHS girls at Olathe Northwest
Box score
FREE STATE (56)
Adriana Jadlow 0-3 2-4 2, Madison Piper 5-10 9-10 19, Scout Wibe 6-11 9-11 22, Millie Shade 4-11 2-2 11, Maren Kahler 0-2 2-4 2, Hannah Shoemaker 0-0 0-0 0, Hannah Walter 0-1 0-2 0. Totals 15-38 24-34 56.
OLATHE NW (45)
Shaleia Jamison 7-11 7-9 21, Sydney Mortensen 2-4 0-0 4, Ashley Heller 0-1 0-4 0, Annemarie Boeh 2-9 1-1 5, Shea Shipman 3-19 4-5 11, Sierra Mortensen 2-5 0-3 4, Maggie Burg 0-1 0-0 0. Totals 16-52 12-22 45.
Free State 15 9 12 20 — 56
Olathe NW 15 6 3 21 — 45
Three-point goals: Free State, 2-9 (Wiebe, Shade); Olathe NW, 1-16 (Shipman). Fouled out: Free State, Kahler; Olathe NW, Jamison, Sy. Mortensen, Heller. Turnovers: Free State 14, Olathe NW 10.
-->
-->
Olathe — There was a point earlier this season when a dissipating lead in the fourth quarter would have sent Free State High's girls basketball players into panic mode.
When Olathe Northwest suddenly worked its way out of a 12-point hole on its home floor Friday and hysteria didn't overtake the Firebirds, senior forward Scout Wiebe had to appreciate that development.
"We just kept positive," Wiebe said after FSHS won, 56-45, on the road, even though the Ravens pulled within five points in the final minute and a half.
"Usually, the past few games, we've been freaking out in those moments," Wiebe said after leading the Firebirds with 22 points. "We were able to not freak out and play our defense, and we knew what we had to do."
Here is Wiebe's definition of freaking out: "We just turn the ball over, we get mad at each other. It's just a big mess. But it wasn't like that tonight."
Instead, the Firebirds made game-winning plays.
A massive part of the late-game execution, thanks to Free State's lead, came at the free-throw line. The Ravens had to foul to stop the clock, even though they were rallying and finally having a productive quarter, after FSHS held them to 3-of-25 shooting in the second and third quarters combined.
Free State held a five-point lead with 1:11 left, and freshman Madison Piper made seven of eight free throws from that point on, mixed in with 2-for-2 trips to the charity stripe by both senior Millie Shade and Wiebe.
After his team improved to 4-6, FSHS coach Bryan Duncan, like Wiebe, was pleased to see the players handle unanticipated pressure and find a way to win.
"The communication amongst our players is much, much better than it was at the beginning of the year," Duncan said. "I think the confidence is also there. Communication and confidence go a long way at any level. Ultimately, that leads to them knowing their roles and understanding who should have the ball in certain situations. I think we're just growing as a team and getting better, which obviously is the goal."
With a nine-point fourth quarter, Piper finished with a double-double: 19 points and 10 rebounds. Shade scored 11 points, ripped off five steals and passed out four assists.
Wiebe, Piper and Shade all had gratifying nights because of Free State's flow on the offensive end of the floor. The three scoring leaders meshed well with Adriana Jadlow, Maren Kahler, Hannah Shoemaker and Hannah Walter.
"I thought our away-from-the-ball movement was the best its been all year," Duncan said, "and we were making hard cuts and making the reads and setting the screens to allow our scorers to get open."
Plus, holding ONW to six points in the second quarter and three points in the third made a 21-point fourth from the Ravens much easier to handle.
"I think mixing up our man and our zones hurt them a little bit, or at least confused them," Duncan said.
Copyright 2018 The Lawrence Journal-World. All rights reserved. This material may not be published, broadcast, rewritten or redistributed. We strive to uphold our values for every story published.