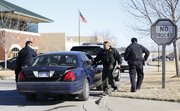 Lawrence police took a man into custody Friday after a two-hour search in the East Hills Business Park.
Sgt. Trent McKinley, spokesman for the Lawrence Police Department, said police received a call at 11:25 a.m. after the man, described as armed and disgruntled, made "disturbing" comments and threatened violence.
His truck had been found with flat tires outside of his employer, PROSOCO. McKinley said police thought the man had a handgun because an empty holster was found in his truck. As police searched for the man, nearby buildings were locked down. No one was hurt in the process, McKinley.
On Friday, a PROSOCO spokeswoman released a statement calling the incident a "domestic, private matter" and saying that the company cooperated with authorities to ensure the safety of its employees and the surrounding businesses.
"We are relieved that the individual involved has been found, and no harm was done to the individual, our employees or any others," Darcy Boyle said in the release.
Copyright 2018 The Lawrence Journal-World. All rights reserved. This material may not be published, broadcast, rewritten or redistributed. We strive to uphold our values for every story published.