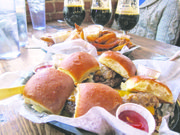 A really great pub can be difficult to find. A pub should serve delicious food, have good service and make for a memorable night. You should be able to grab a table and carry on a conversation. These are the kinds of details that can make or break a pub. Fortunately for us, there's a place in Lawrence that seems to get everything right: Dempsey's Burger Pub.
I think it's fair to say Dempsey's is a popular pub in town (it's certainly my go-to). There's usually no wait for a booth during Happy Hour, but the crowd picks up in the evenings because the burgers and fries here are a hot commodity. The space is occupied by both booths and high-top tables, but there's still plenty of standing space and a separate bar area. The Eastern-facing windows provide enough daylight in the evenings, but the soft interior lighting is perfect after the sun sets. Dempsey's has truly crafted the pub atmosphere that covers all of the bases. There's even a patio for the warm summer days when drinking beer inside is unthinkable!
Let's chat about the business of pubs: beers! Dempsey's has an all-star lineup, with great options for any taste. They also rotate their taps fairly often, and are known for getting in special brews that sometimes vanish in mere hours. As for the food, Dempsey's offers some excellent staples as well as some nice surprises. The burgers and fries are really all you need to know about (it's a pub after all, am I right?), but there are also salads, wings, and fish and chips available. If you run into the unfortunate problem of not being hungry enough for a burger, but reeeeally wanting a bite or two, you can always depend on the sliders to satisfy. These mini burgers are perfect in both size and price point (one for $2, three for $5, or five for $7), and every bit as good.
My last visit to Dempsey's was not unlike previous visits: sliders (5) and a basket of fries to share with the table, and a stout beer (all of this goodness totaled just $13.89, $16.89 after tip). There was no wait for a table, the service was great, and I had wonderful company to chat with for the evening. Great pubs are essentially a collection of simple practices and a thoughtful layout. As difficult as it can be to find a great pub, I'm glad that it's not a common problem here in Lawrence.

— Jessica Pauly, aka Mrs. Mass., gives her thoughts on shopping, urban living and what's new in Lawrence in CheckOut weekly and on her blog, mrsmass.com.
Copyright 2018 The Lawrence Journal-World. All rights reserved. This material may not be published, broadcast, rewritten or redistributed. We strive to uphold our values for every story published.