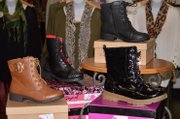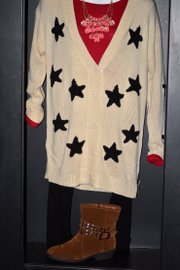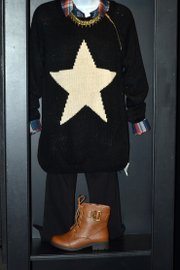 Most people would probably be burnt out on shopping after the holidays, but as a veteran shopper, I say get out there and take advantage of those deals! You'll always find sales post-holiday season because it's no secret that stores want to get rid of their fall and winter merchandise in order to make room for their new spring and summer assortments.
Buying winter clothes that are on sale doesn't mean you're wasting your money, because if you search for the right pieces, they can be seamlessly transitioned into the spring season.
I'm not saying go out and grab all the half-off bulky winter coats that you can find (unless you can find a deal you can't pass up, and you're betting that it will be in-style next winter), but pieces like jeans, tops, lightweight beanies and sweaters, and shoes that can be worn in warmer temperatures are all fabulous finds that you'll be able to wear now and in the next couple of months.
Basically anything you can see yourself wearing this spring is fair game to buy, especially if it has that beloved "mark down" sticker on it.
I look for lightweight cardigans that can be layered with tees, tanks or button-up shirts. I also love finding a deal on skinny jeans. Nothing gets me giddy like the price slashed on a pair of skinny jeans! You can never have enough pairs of skinny jeans.
Shoes are always a pleasant surprise to find on sale because they are typically more expensive depending on where you're shopping. I recently found two pairs of boots at Envy, 911 Massachusetts St., that I could definitely wear in the spring, and their sale price was a plus.
One pair was a lace-up style that would look cute with skinny jeans, a feminine dress, or even a skirt. The other pair had an edgy buckle detail with a slouched, worn-in look to them. I suggest wearing this style with shorts, skirts or even skinnies for a simple transition into the not-so-distant warm weather.
If you're not looking for instant gratification when you shop then go ahead and plan for next fall and winter; scoop up all the cold-weather gear you can for a fraction of its original price. Although I wish I could plan my wardrobe that far ahead for next year, I won't pretend like I can get even remotely close to doing something like that. But I'm searching for pieces I know I can wear in the near future at significantly discounted prices.
So I say do whatever works for you and take advantage of the sales!
— Emily and Elizabeth Kennedy are twin sisters and fashion bloggers who share a blog called Fashion Column Twins. Emily writes this column. They can be reached at fashioncolumnblog@gmail.com.
Copyright 2018 The Lawrence Journal-World. All rights reserved. This material may not be published, broadcast, rewritten or redistributed. We strive to uphold our values for every story published.