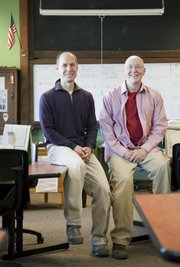 Mike Wormsley took a second look at the email to make sure he wasn't seeing things.
A co-worker at Lawrence's Liberty Memorial Central Middle School was offering to donate a kidney that would prolong and improve the quality of his life.
"I think I read through that thing six times to make sure I was reading it right," said Wormsley, who teaches eighth-grade American history.
His eyes weren't deceiving him. Scott Forkenbrock, a computer technology instructor, was prepared to give Wormsley one of his kidneys. They just had to find out whether he was a match.
Before that email, Wormsley, 62, had resigned himself to several more years of fatigue, dialysis and waiting on the donor registry. He was born with polycystic kidney disease, a progressive disorder that causes cysts to form in the kidneys and often leads to them failing. That's what started happening to Wormsley about a year and a half ago.
In class, the normally high energy Wormsley started feeling fatigued and "fuzzy-headed," as he said. He signed up for the donor registry but knew it had an average waiting time of a few years. While a couple people expressed interest in donating a kidney, nothing crystallized.
If anyone was interested, though, Wormsley would direct them to a website that explained the potential downsides of giving a kidney. "It's a huge commitment. It's probably harder on the donor physically than it is for me to receive," he said. "I don't want a mercy donation."
That didn't dissuade Forkenbrock, 42. He discovered that after recovering from the donation he would be able to resume his normal life, which for him includes a heavy dose of physical activity: running, bicycling, hiking. The greater concern was the wellbeing of his co-worker.
"I know how much of a time commitment dialysis was, and his energy level wasn't where he wanted it to be. I wanted him to be able to get back to a normal lifestyle and hopefully live a long, healthy life," Forkenbrock said. "And by donating a kidney to Mike, that takes him off the list and someone else moves up a spot. So I'm really helping two people."
Wormsley's wife, Kea, says the transplant will allow the couple to begin traveling and being physically active again. All thanks to Forkenbrock.
"If anyone knows of an award I can nominate him for, let me know," she said. "There's no way I can thank him enough."
After an initial test showed Forkenbrock and Wormsley were not a match, a second test found the two to be compatible. On Tuesday, they go under the knife at Kansas University Hospital in Kansas City, Kan.
Forkenbrock expects to be out of the hospital by the end of the week and miss the next month of school (not long after that, he'll be able to resume exercising). Wormsley will be at KU Hospital five to 10 days and return to teaching in about six weeks.
Forkenbrock hopes his donating an organ will inspire others to do the same. People who receive kidneys from living donors are said to live longer and reject the organs at a lower rate. There's also the benefit of being able to schedule the procedure rather than getting a last-minute call that a cadaver is ready. And, Wormsley noted, he now has the opportunity to personally thank his donor, and even take him out for dinner.
For Wormsley, the hard part — finding a donor — is out of the way. But even on Monday, the day before the surgery, he still could hardly comprehend what was happening.
"I don't know if I'm going to totally believe it until I wake up tomorrow afternoon," he said. "It just seems so surreal. What are the odds you get a donor from work and he's a match?"
Copyright 2018 The Lawrence Journal-World. All rights reserved. This material may not be published, broadcast, rewritten or redistributed. We strive to uphold our values for every story published.