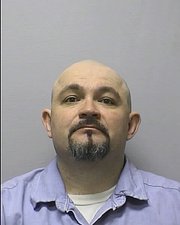 A Douglas County judge on Tuesday again continued an evidentiary hearing in the retrial of a 40-year-old man convicted of raping a Kansas University student in 1997.
Robert E. Grey will return to court on Feb. 14.
Grey was awarded a retrial last year by a Kansas Court of Appeals panel. The panel found that prosecutorial misconduct deprived Grey of a fair trial. Grey had been sentenced to 26 years in prison following a 2009 conviction in the case, and he is being held in Douglas County Jail on a $500,000 bond.
On Monday, Grey's defense filed a motion to dismiss the state's case against Grey. Grey's attorney, Angela Keck, argued that Assistant District Attorney Evelyn Kemple, the lead prosecutor, purposefully contaminated an article of clothing used as evidence when the defense and prosecution met to view evidence in 2012. Kemple testified Monday that she handled the evidence while wearing gloves and that it was not contaminated.
On Tuesday, after hearing testimony about fingerprint samples used in the case, District Judge Michael Malone did not issue a ruling on the defense's motion to dismiss, opting instead to continue the hearing until Feb. 14.
Copyright 2018 The Lawrence Journal-World. All rights reserved. This material may not be published, broadcast, rewritten or redistributed. We strive to uphold our values for every story published.