When Jennifer Salva was 8, she was playing outside with her 5-year-old sister, who is deaf, when some teenagers started mocking the way the younger Salva talked.
"I walked up to them and explained, 'This is my little sister, and she's deaf. She can't hear herself,'" said Jennifer. "I explained her disability and asked them to please stop."
Thirteen years later, Salva is still an advocate for her sister — and others like her.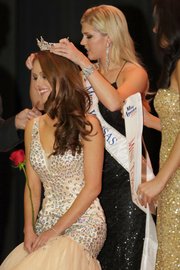 Salva, a student at Kansas University, was recently named Miss Topeka, the regional preliminary for the Miss America pageant, and has chosen as her platform helping people with special needs (her sister also has developmental disabilities). She is raising funds for Inclusion Connections Inc., an Olathe nonprofit that works to expand opportunities for community involvement for people with disabilities, including meaningful employment and independent living.
"Growing up with my little sister has exposed me to the deaf community and other individuals with cognitive and physical disabilities, and has given me empathy and compassion for people who are different from me," Salva said. "And both my and Inclusion Connection's main goals are to create meaningful social, educational and employment opportunities for individuals with a disability."
Salva grew up near Independence, Mo., before her family relocated to Olathe, so her sister, Erin, could attend the Kansas School for the Deaf. She got involved in pageants a couple years ago when she competed for and won the title of Miss Czech-Slovak U.S. (her grandparents are of Slovak descent).
Salva moved to Lawrence to attend KU, where she is a senior majoring in journalism, film and media studies and Arabic. After graduation, she plans to continue studying Arabic in graduate school and hopes to eventually land a government job using her language and cultural skills.
To find out more about Salva's platform or donate to her charity or run for Miss Kansas, contact her at jhsalva@yahoo.com.
Copyright 2017 The Lawrence Journal-World. All rights reserved. This material may not be published, broadcast, rewritten or redistributed. We strive to uphold our values for every story published.